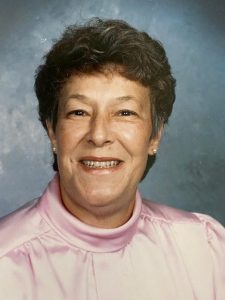 Joanne L. Huddlestun, age 93, of Constantine, died on Wednesday, February 23, 2022 at her home surrounded by her family. She was born July 7, 1928 in South Bend, a daughter of Lewis L and Lillian R (Dickson) LaCosse. Joanne graduated from John Adams High School, South Bend. On December 20, 1947 she married Donald Huddlestun in South Bend.
Surviving are her husband of 74 years Donald Huddlestun, Constantine, children Robert (Nancy) Huddlestun, Mishawaka, Amy Gunther, Constantine, Charlie (Cathy) Huddlestun, Elkhart, Beth Anne (Bruce) Shoup, Zionsville, grandchildren Donald Huddlestun, Tracy Huddlestun, Eric (Bridgett) Gunther, Meg (Michael Massatt) Gunther, Dustin (Jillian) Huddlestun, Tyler (Jamie) Shoup, Austin (Misti Maxwell) Shoup, Curtis Shoup, Madison Howard, great grandchildren Alyssa Fox, Elle and Emerson Shoup, Mason Huddlestun and Ella Rose Shoup and brothers Lewis LaCosse and Gil (Geri) LaCossse.
She was preceded in death by her grandchildren Will Shoup and Melissa Huddlestun and sisters Barbara Brunette and Edith Gardner.
Cremation has taken place, there will be no public services at this time. Memorial contributions may be directed to St. Joseph Co. Animal Control c/o St. Joseph Co. United Way, 660 E. Main St., Centrevillle, MI49032. To sign Joanne's guestbook and leave a message for the family, please visit www.eleyfuneralhomes.com.