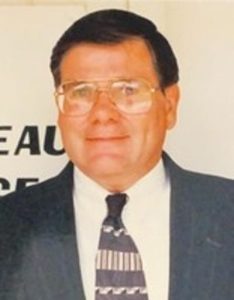 M. Loren Carlisle, age 74, went to his heavenly home on Thursday, February 3, 2022. He was a beloved husband, father, papa, brother, uncle, friend, a respected businessman, and a steadfast believer in his Savior, Jesus Christ.
Beloved son of Dorothy (Fimple) Carlisle and Marion J. Carlisle, Loren was a lifetime resident of Colon. He grew up on his family's centennial farm and attended Colon High School. Loren excelled as an offensive and defensive Guard for the football team and was an accomplished cornet player in the Colon High School Band. He graduated from Greenville College, Greenville, IL, in 1970 with a degree in social work. He then attended Asbury Theological Seminary in Wilmore, KY from 1970-1971. He served in the Michigan National Guard for seven years. Loren was a farmer at heart but was employed by Michigan Farm Bureau Services in Mendon, and later by Michigan Farm Bureau Insurance where he served as the Three Rivers agent for over 35 years. Throughout his career as a trusted insurance advisor, Loren had a passion for serving his customers. In his role with Farm Bureau, he provided insurance for this life and through the love and grace of Jesus, he offered assurances for the next life for anyone open to the Gospel message.
Loren married Gwen (Barrett) Carlisle of Cambridge, NE on December 27, 1969. They welcomed twin daughters, Vanessa Ruth (Carlisle) West and Vonda Lynell (Carlisle) Bryce in March 1974. Their family was completed with the birth of Elizabeth Dorothea (Carlisle) Hooley in May 1984.
Loren is survived by his loving wife, devoted daughters; Vanessa West (Michael), Vonda Bryce (Eric), Elizabeth Hooley (Dan) and seven grandchildren: Mikaela Ruth, Savoie Rose, Ethan Loren, Lola Lynell, Emmelene Barrett, Truman Bruce and Lyle Levi. He is also survived by his sister, Martha Jane (Carlisle) (Rice) Barton and niece, Ruth (Rice) Anderson (Philip Anderson; children Hannah and Abigail) and nephew, James Rice (Carole). He has one cousin, Carol Jean (Levin) Malovey and her husband Edward Malovey.
He was preceded in death by his mother, father, brother-in-law, Jack Barton and three grandchildren born into heaven.
It is a comfort to the family that Loren passed away at his farm. His love for his family farm was only surpassed by his love for his family.
A private interment will take place at the Colon Lakeside Cemetery on Thursday, February 10th, for immediate family. A celebration of life will be held on Saturday, February 12th at 1:00 PM at Firm Foundation Ministries, 651 E Main St, Centreville, MI. Following the service at 3:00, the family welcomes friends and family to come for food, fellowship, and informal remembrance of Loren.
In lieu of flowers, the family asks that memorial donations be made to The Gideons International for Bible donations or the Colon Historical Society. Online condolences and memories may be left for the family at Schipperfuneralhome.com.