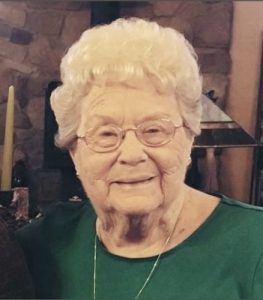 A. Merle Munn, age 98, of Sturgis, passed away Wednesday afternoon, February 2, 2022 at Sturgis Hospital, just 16 days shy of her 99th birthday.
She was born February 18, 1923 in Hamilton, Ontario, Canada daughter of the late Kenneth and Eleanor (Misner) Martin.
Merle resided in Sturgis since 1953 coming from Ionia. She was married to Harzey F. Munn for 28 years. He died March 3, 1985.
She retired in February of 1988 from Ross Laboratories in Sturgis following 10 years of dedicated employment. Six of her 10 years at Ross Lab was working in the Biomedical Lab. For several years she owned and operated with her husband Munn's Custom Cleaning Service in Sturgis.
She was a member of the Sturgis Wesleyan Church. She also held memberships in the Ruth Circle at the First United Methodist Church and the Friendly Circle Club. Merle was always willing to volunteer her time for others. Some of her involvements included serving 17 years with the Sturgis Hospital Gift Shop Guild, Election Board, Sturgis Citizens Committee and the American Red Cross Blood Bank.
Merle enjoyed needlepoint, cross stitch and had a passion for reading. For most of her life she read over 160 books a year (No Exaggeration)! Merle had many interests and involvements but what she truly loved and cherished was time surrounded by her family.
She is survived by two sons: Steven Munn and David (Roxanne) Munn both of Sturgis; seven grandchildren: Benjamin (Stefanie) Munn of Denver, Colorado, Stefanie Belote of Sturgis, Jeff Herman and Danny (Kayla) Herman both of Sturgis, Haley (Steve) Palmer of Sturgis, Holly Jo (Sam) Fittro of Sturgis and Zani (Rusty) Northrop of Kalamazoo; 16 great grandchildren: Ethan, Blake, Jaxon, Mazey, Rowen, Dylan, Gavin, Addison, Austin, Amaya, Abigail, Brock, Anna, Sylvia, Grayson and one "Baby Herman" on the way! one brother: Wayne (Terri) Martin of L'anse, MI and many nieces and nephews; three wonderful friends: Janie Pueschel, Marcia Post Hughes and Jessica Sturgill.
She was preceded in death by her sister: Bette Merchant Keil; daughter-in-law: Diana
The family will receive friends from 12:00 to 1:00 P.M. Tuesday, February 15, 2022 at the Hackman Chapel of Hackman Family Funeral Homes, 114 S. Nottawa St. in Sturgis where funeral services celebrating the life of Merle Munn will begin at 1:00 P.M. Tuesday. The Rev. Ryan Bibb of the Radiant Life Church will officiate. A graveside committal will follow the service at Oak Lawn Cemetery in Sturgis.
The family suggests those wishing to make a memorial donation in Mrs. Munn's memory consider the Sturgis Hospital Auxiliary, 916 Myrtle Ave., Sturgis, MI 49091.
Relatives and friends are encouraged to share memories and condolences at www.hackmanfamilyfuneralhomes.com.