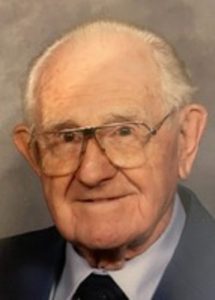 Roger Winton Scheetz, age 100, of Sturgis, passed away Tuesday afternoon, February 8, 2022 at Edgewood Health and Rehabilitation in Three Rivers.
He was born July 26, 1921 in Alpena, son of the late Clyde O.T. and Ila M. (Baker) Scheetz.
Roger was a lifelong Sturgis resident and graduate of Sturgis High School with the class of 1940.
On July 18, 1943 he married Kathryn Elizabeth von Olnhausen at the Pretty Prairie United Methodist Church in Howe, Indiana. She preceded him in death February 24, 1969. On January 3, 1970 he married Nedra M. (Charles) Houser at the First Baptist Church in Sturgis and she preceded him in death March 18, 2016.
Following his graduation from high school he worked alongside his father in the automobile and implement business prior to his enlistment into the Army Air Force.
Roger took great pride in his service to his country during WWII earning the rank of Staff Sergeant. Roger served in the CBI Theater with the 20th Air Force in China, Burma and India, with the 21st Air Force on Tinian Island in the Southwest Pacific with the B-29's. He was awarded two Presidential Citations as a group in India with the 58th Bomb Wing, (40th Bomb Group), 44th Squadron. He served as a Crew Chief on the B-29's. The "A" bombs that were dropped on Japan came from the Island of Tinian where Roger was stationed. Schools that Roger attended and graduated from while in the Army Air Force included: Amarillo, Texas, B-17 and B-24 Air Force Mechanics School; Chanute Field, Rantoul, Illinois, Technical Training School for B-17's and B-29's; Seattle, Washington, Boeing Factory Technical Training on B-29's.
Following his honorable discharge from the service he was employed by the National Carbon Coated Paper Company and Register Division of Sturgis as a Compositor for six years, Southland Paper Company of Kalamazoo as a compositor for three years and Brubaker Printing Company of Sturgis for 16 years. His more recent employment was in purchasing at Oak Products and Owen-Illinois and he was also associated with Bolen Case International Implement Company in Sturgis.
Roger was a member and past Deacon of the First Baptist Church in Sturgis. He was also a Life member of T.J. Collins Chapter of DeMolay, Tri-State Genealogy Society and Captain John J. Kelley Post #1355 V.F.W.
Roger enjoyed gardening, woodworking, playing golf, traveling and was deeply involved in genealogy.
He is survived by one daughter: Sandra Jane (Dennis) Miles of Fort Wayne; one son: David (Lou Ann Gest) Scheetz of Sturgis; son-in-law: Tom Shill of Tampa, Florida; eight grandchildren: Jennifer (Randy) Falkenstein, Marshall (Rebecca Merlin) Scheetz, Kathryn Miles, Pamela (Kevin Zimmer) Miles, Tommy Scheetz, Drew (Brittany Lesniak) Scheetz, Butch (Ashley Dodson) Scheetz and Joey Scheetz; eight great grandchildren: Lauren Falkenstein, Nicholas Falkenstein, Eliot Scheetz, Kennedy Scheetz, Aviva Scheetz, Kale Scheetz, Winton Scheetz and Beckman White; and several nieces and nephews.
He was preceded in death by his wives; daughter: Teresa (Houser) Shill, sisters and brother-in-law: Margaret and James Cross and Patricia Scheetz and brother: Robert James Scheetz.
The family will receive friends from 11:30 A.M. to 1:00 P.M. Friday, Feb. 18th at the Hackman Chapel of Hackman Family Funeral Homes, 114 S. Nottawa St. in Sturgis where funeral services celebrating the life of Roger W. Scheetz will immediately follow the visitation at 1:00 P.M. The Rev. Dr. David Weber of the First Presbyterian Church of Sturgis will officiate. A graveside committal will follow the service at Oak Lawn Cemetery in Sturgis. Full military honors will be conferred by Captain John J. Kelley Post #1355 VFW and the U.S. Army Honor Guard.
The family suggests those wishing to make a memorial donation in Mr. Scheetz's memory consider Honor Flight, Box L-4016, Columbus, OH 43260-4016.
Relatives and friends are encouraged to share memories and condolences at www.hackmanfamilyfuneralhomes.com.