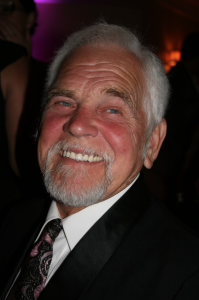 Rudy W Yoder, age 80, of Nottawa, formerly of Union, MI, and Port Charlotte, FL, died on Thursday, February 17, 2022 at Fairview Nursing Home in Centreville.  He was born August 20, 1941 in Hazelton, IA, a son of William C. and Sarah (Mast) Yoder.
Rudy worked in several trailer factories before creating and operating International LTD, a truck camper manufacturing company in Burr Oak from 1969 to 1975. He then formed his own construction company, Yoder's Construction Service, which operated in both Michigan and Florida until his retirement in 2020.
He attended Bridges Community Church in Centreville and Unity Church of Peace in North Port, FL.
Rudy was a member of the American Legion in both Florida and Michigan where he won many Euchre tournaments.  He owned and piloted a Cessna 120 airplane until it was destroyed by Hurricane Charlie in 2004. He enjoyed world-wide traveling, dancing, fishing, gardening, hiking, throwing New Year's Eve parties, meeting with coffee clashes at local restaurants, and driving his tractor into town.
Surviving are his companion of 22 years, Pam Rasmussen, Venice, FL; his daughters Arlene (Joel) Traylor, Shadyside, OH; Brenda (Ray) Walls, Sturgis; 8 grandchildren: Patricia (Richard) Craighead, Beallsville, OH; Jennifer (Aaron) Wallace, New Haven, IN; Joel (Gina) Traylor II, Millerton, PA; Kori (JT) Zehr, Centreville; Brianna Bathgate, Nottawa; Alyce (Kevin) Rotunda, Centreville; Sammantha Walls, Sturgis; and Grayci Walls, Sturgis; 23 great grandchildren; ex-wife Ida Sue Borkholder, Sturgis; siblings Enos (Fannie) Yoder, Sarasota, FL; Martha Thomas, Bradenton, FL; Ezra (Katie) Yoder, Shipshewana; Clarence (Juanita Barajas) Yoder, Bennett, CO; Sarah Marie (Marvin) Miller, Nappanee, IN and many nieces and nephews.
He was preceded in death by his parents; siblings Chris (Sadie) Yoder; Levi (Mary) Yoder; William (Ada Mae) Yoder Jr.; Elizabeth Brown, and Katie Miller.
A memorial service will be held to celebrate Rudy on Saturday, February 26, at Bridges Community Church, 27570 Marvin Rd., Centreville. Visitation will be from 9 to 11 AM with the service at 11:00 AM, followed by lunch.  Pastor Joel Traylor will be officiating. To sign Rudy's guestbook and leave a message for the family, please visit www.eleyfuneralhomes.com.