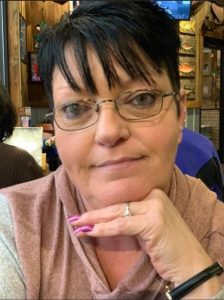 Tina Louise Heath, age 57, passed away at Rose Arbor Hospice on Monday, February 21, 2022. She was born on March 9, 1964 the daughter of Merle and Betty (Thomas) Heath. She was one of five children and spent her entire life here in southwest Michigan. Tina attended Colon Schools. For many years, Tina worked at numerous area factories. She enjoyed spending time with her family, especially her grandchildren. When she was able, she tended to her flower garden. She looked forward to her crafting projects, making beautiful wreaths for her family and friends. She had a soft spot for animals and a lead foot when it came to driving.
Tina is survived by her two sons; Merle "Mike" Burger (Sharon Yoder) of Portage,  and Matthew Burger of Colon. Four grandchildren; Preston Burger, Rihanna Burger, Sabrina Burger, and Elena Burger. She is also survived by her best friend and number one child, Slick the dog. She was preceded in death by her parents, Merle and Betty. Three sisters; Teresa Buehlman, Peggy Roberts, and Mary Lynn Wiard, and one brother, Roger Heath.
The family will receive friends from 6 to 8 pm Friday at the Eickhoff Funeral Home in Mendon. Funeral services will be at 11 am Saturday, Feb. 26, 2022 at Firm Foundation Ministries in Centreville. Following a lite-luncheon, burial will take place in Leonidas Cemetery. It is suggested that memorial contribution be directed to the St. Joseph County Animal Shelter. Memories and condolences may be shared at www.eickhofffuneralhome.com.