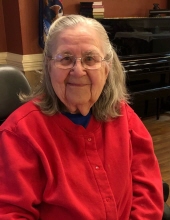 Virginia Mae Couch, age 93, passed away Monday, February 14, 2022 at Thurston Woods Village in Sturgis.
She was born July 25, 1928, the youngest child of Charles and Ovia (Thompson) Ferrell. In 1951, she married Robert Couch, he preceded her in death in 1980. Also preceding
her were her parents, 3 brothers: Durward, Burl, and William, and one sister: Evadne.
She is survived by 4 daughters: Debra (John) Gelvin, Patricia (Michael) Romine, Lori (Kelly) Davidsmeyer all of Sturgis, and Roberta (Patrick) Patterson of South Haven; 2 sons: Robert (Connie) Couch Jr. of Sturgis, and Douglas (Trina) Couch of Bristol, IN. Also survived by 8 grandchildren: Melanie Couch, Kristi Ritter, Jade Klingler, Kyle Davidsmeyer, Jamie Davidsmeyer, Ashley Hearld, Joshua Gelvin and Olivia Patterson; 8 great-grandchildren; and several nieces and nephews.
Though Virginia was born in Lansing, she spent most of her childhood in Wolf Lake, Indiana. Because of the Great Depression, her parents decided to move back home to be near other family members and work on the family onion farm. At the age of 17, the family moved to Sturgis, and Virginia graduated from Sturgis High School with the class of 1946. As a teenager, she enjoyed roller-skating at the open-air rink in Sturgis and riding her Palomino, Carmel.
In 1950, she met a "tall, handsome guy on a Harley" and they were married in 1951.
Virginia had an extensive doll collection, many of them purchased while attending doll shows with her sister, Evadne. She was a huge fan of Michigan Football and loved flying her "M" flag on football Saturdays. She even attended a few games at the Big House. She also loved reading and belonged to a walking club. Though being partially paralyzed by a stroke in 2003, Virginia still remained active and enjoyed traveling and attending family gatherings.
Virginia will always be remembered for her ever present smile that lit up the room and warmed your heart.
The family will receive friends and relatives for a time of sharing and celebrating her life from 4:00 to 7:00 P.M., Sunday, February 27, 2022 at the Rosenberg Chapel of Hackman Family Funeral Homes, 807 E. Chicago Rd., Sturgis, MI 49091.
Memorial donations may be directed to the Disabled American Veterans, Jack Johnston Chapter #88, envelopes are available at the Hackman Family Funeral Homes of Sturgis who has been entrusted with the arrangements.
The obituary is also at www.hackmanfamilyfuneralhomes.com where personal messages of support may be left for the family.