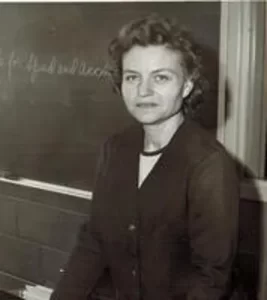 Agnes M Hiller, age 96, of White Pigeon, died on February 27, 2022 at her home following an extended illness.
She was born on February 8, 1926 in Bronson, Michigan the Daughter of August and Nelia (Lawton) Koller.
White Pigeon Area resident most of her life. Graduate of Central Michigan University. School Teacher for Constantine Schools 26 years.
Married to James F Hiller who preceded her in Death. She is survived by her Daughter Hope E Hiller, Son DaWayne F Hiller, Grandchildren Laura (Matthew Yoho) Hiller and Dane Doremus. Great Grandchildren Stella Miller, Joan May Yoho and Elora Yoho. Preceded in Death by Parents, Husband, Son David Bronson and two Sisters.
Visitation from 2:00 to 3:00 PM on Saturday March 12, 2022 at the Farrand Funeral Home in White Pigeon where Services will begin at 3;00 PM with Pastor Paul Pierucki officiating. Donations may be directed to the family.