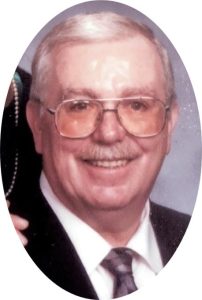 It is with deep sadness that we announce the death of Wilbur Harry Shively, Jr., 73, who passed away suddenly at his home on Saturday, March 19, 2022. He was born in Three Rivers, the son of Wilbur H. Shively, Sr. and Ethyl Kline-Miller. He graduated from Three Rivers High School and proudly served the US Army stationed in Northern Italy, and loved to speak in Italian from time to time. Due to health issues, he took an early retirement as a Lineman with Michigan Gas & Electric Company, where he worked for many years.
He married the love of his life, Frances "Jane" Dobrowolski, on May 29, 1988 and they celebrated 33 years together. Bill learned to cook early in life for his working Mom and enjoyed doing the cooking while Jane worked as an RN in Kalamazoo. They both loved animals, and had fun loving dogs and cats as pets. His cats Missy and Wendy are missing him along with Jane and his favorite folks around town at the Main St. Café, the Dairy Bar, Dad's Place, American Legion and the Elks Club, to name a few.
Bill had a long and enduring friendship with his cousin, Judy Gilchrist-Mohney, whom he could count on to share his enthusiasm for Baseball. They shared many recent long-distance conversations since her move to Stayton, Oregon. He also enjoyed his relationship with cousins, Chip Barger from Kansas City, Missouri and Buddy Barger from Lehigh Acres, Florida. Bill loved fishing all his life and many other active sports. He was an avid golfer winning two trophies for a hole in one: in 2012 at St. Joe Valley – Sturgis, and another in 2015 at Heritage Glen in Paw Paw. He aced St. Joe with a 5 iron at 155 yards and aced Heritage with a 9 iron at 136 yards. He was looking forward to getting back on the course this spring with his favorite golfing buddies.
Bill was a great storyteller, loved to laugh, joke and tease people. He was a man of his word, firm, yet fair, friendly, kind and always willing to help others. He was thoughtful and sent Jane many beautiful flower bouquets through the years. Proud of his US Army service, Bill established many enduring friendships as an active member of the Elks, Moose, Eagles and the American Legion.
Bill was preceded in death by his parents and stepfather, George Miller, brother Robert "Fritz" Dicken, sister Marva Dicken-Grimm, and her husband Robert Grimm, as well as father and mother-in-law, Joseph and Betty Dobrowolski.
He is survived by his loving wife Jane Shively, and her sister Barbara Davidson. His cousins, Judy Gilchrist-Mohney, Chip Barger, Buddy Barger, and Three Rivers Cousins: Ronald Kline, Brenda Gilchrist-Dennis and Edith Kline-Reynolds, as well as many other cousins, nieces and nephews.
According to his wishes, cremation has taken place and a memorial service will be announced at a later date. Jane and Bill's memorial gravestone had been placed in Riverside Cemetery earlier in their marriage.
In lieu of flowers, please consider donations to Animal Rescue Fund, Centreville, Michigan. Envelopes are available at Hohner Funeral Home in care of his arrangements.