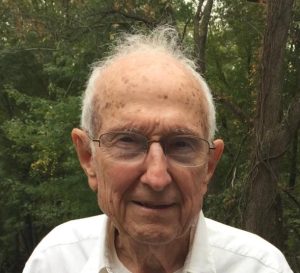 Carroll Joseph Haas, age 100, of Mendon, died peacefully at home on Thursday, March 3, 2022. He was born in Mendon on May 26, 1921 the son of the late Bernard C. and Mildred M. (English) Haas. He graduated from Mendon High School in 1939, then served in the Army Signal Corps during WWII. Carroll was married to Elaine Hamilton on July 29, 1944 in Hicksville, Long Island, NY. He graduated from the University of Michigan College of Engineering in 1947 and returned to the family business, the Haas Corporation in Mendon. He established Research Molding in 1960, which was sold to Federal Mogul in 1971. He became President of Permafit in Kalamazoo, later known as Colonial Engineering.
Carroll was a Mendon School board member and was President when the current high school was built. He served on the Mendon Library Board and was a member and supporter of the Mendon Kiwanis Club and Showboat. He founded the Bernard C. Haas College of Engineering Scholarship at the University of Michigan and was a member of the External Advisory Board at the College of Engineering at the U of M, and was honored with the U of M College of Engineering Alumni Merit Award in 1995. Carroll had many interests, including golfing, boating, and travel. He established the Carroll Haas Foundation which sponsored numerous scholarships: a 4-H Scholarship for Mendon Agricultural students, Violoncello and dance scholarships for Western Michigan University, engineering scholarships for the University of Michigan, and collaborated on research of Cystic Fibrosis at both the U of M and WMU.
Carroll is survived by five children, Jim (Bev) Haas of Vicksburg, Kathy (Bill Deminie) Gray of Barrington, IL, Jody (John Mueller) McKee of Lexington, KY, Robert Haas of Portage, and Theresa (John Dillon) Haas of Ann Arbor; nine grandchildren, James Haas, II, Andrea (Joe Keithley) Haas, Elizabeth Haas, Nathan (Elizabeth) Gray, Esther (Mark)Scott, Rachel (Zach Coughlin)Haas, Audrey (Andrew) Dwyer, Andrew (Anya) Dillon, and Emma Dillon; ten great-grandchildren, Noah, Violet, Alex, and Jack Keithley, Thomas, Caleb, and Rebecca Gray, Joseph Isaacs, Riley Callow, and Lou Dillon. He was preceded in death by his parents; his wife, Elaine; son, C.J. "Kit" Haas, II, granddaughter, Lauren Munao, two brothers, Terrence "Ted" Haas and Arthur "Art" Haas; two sisters, Jeannette Donnelly and Joyce Beebe.
Visitation will be from 4 to 7 pm Monday at the Eickhoff Funeral Home in Mendon. Funeral mass will be 11 am Tuesday, March 8, 2022 at St. Edward Catholic Church in Mendon with Msgr. Thomas Martin officiating. Military interment will be in St. Edward Catholic Cemetery.
It is suggested that memorial contributions be directed to either St. Edward Catholic Church, or to the Mendon Public Library. Memories and condolences may be shared at www.eickhofffuneralhome.com