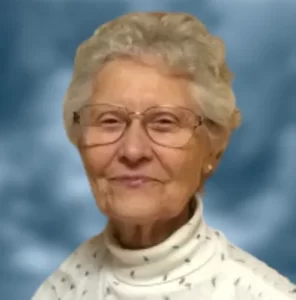 Helen Louise Pendleton of Caro, Michigan, formerly of Sturgis, age 88, passed away on Tuesday, March 15, 2022 at Heritage Hill Assisted Living in Caro, following a period of declining health. Helen was the youngest of six children born to the late Joseph & Rose (Hudson) Harmon. She grew up in Sturgis and graduated from Sturgis High School with the class of 1952. Helen was united in marriage with Robert Spears Pendleton on March 24, 1957, and the couple celebrated fifty-six years of marriage prior to his death on February 14, 2014. As a young mother, she worked diligently to raise four children and maintain an immaculate home before taking a position as a playground aide at Wall Elementary in Sturgis and later at Sturgis Moulded Products. Always independent and active, Helen could most often be found quilting, sewing, and reading, especially Western novels. She loved children, especially babies, and would often stop to admire them. She also enjoyed being outdoors, mowing the lawn, riding her bike, and taking walks.
Left to cherish Helen's memory are four children and their spouses, Sandy "Sis" & Hank Knier of Caro, Nate "Bub" & Sally Pendleton of Sturgis, Tim & Rena Pendleton of Sturgis, and Bruce Pendleton of Boise, Idaho; eight grandchildren; eighteen great-grandchildren; and many nieces and nephews. In addition to her parents and husband, Helen was preceded in death by her five siblings and one grandchild.
Funeral services will be held at 11:00 a.m. on Monday, March 21, 2022 at the Colwood Church in Caro with Pastor Randy Carpenter officiating. Helen's family will be present to receive friends at the Ransford Collon Funeral Home in Caro on Sunday from 4:00 to 6:00 p.m. and on Monday at the church from 10:00 a.m. until the time of the service at 11:00 a.m.  Burial will follow at 1:00 p.m. on Tuesday, March 22, 2022, at White Pigeon Cemetery. Those planning an expression of sympathy are asked to consider memorial contributions to the Alzheimer's Association. The family was assisted with these arrangements by the Ransford Collon Funeral Home of Caro. Friends may share memories, thoughts, and prayers online at www.RansfordCollon.com.