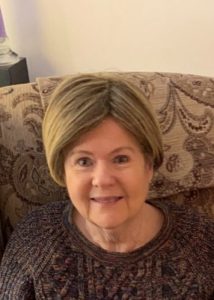 Janet Marie Volosky, age 71, of Colon, passed away Monday, March 14, 2022 at her home after a courageous 13-year battle with cancer.
Janet was born in Three Rivers on February 13, 1951, a daughter to the late Mahlon M. and Anita M. (Mann) Frisbie.
Janet graduated from Colon High School with the class of 1969. Janet worked and retired from Maxitrol Co. in Colon.
In June of 1980 Janet met David J. Volosky. From that day forward they spent the last 42 years together.
Janet always inspired others by her positive outlook on life. She enjoyed vacations with her husband and shopping in all of Michigan's port towns. Janet most especially loved her family and her cat.
Janet is survived by her husband David J. Volosky of Colon, stepson Raymond J. (Roxane) Volosky, brother Loren (Sherry) Frisbie of Colon, Niece Jody Carr Nephew Kory Frisbie, 2 great nieces, 2 great nephews, 3 step grandchildren and 14 step great grandchildren.
Besides her parents Mahlon and Anita Frisbie, Janet was preceded in death by her brother Larry Frisbie, nephew Adam Frisbie, and stepson James D. Volosky.
The Volosky family will receive friends and relatives on Sunday March 20, 2022, from 2 to 4 and 5 to 7 PM at the Schipper Funeral Home. A funeral service celebrating the life of Janet will be held Monday, March 21, 2022, at 11 AM at the Colon United Methodist Church with Pastor David Elmore officiating. Interment will follow in South Colon Cemetery. The family asks memorial donations to be made in lieu of flowers to the St. Joseph County Animal Rescue Fund or the Colon Rescue Squad. Envelopes will be available at the funeral home. Memories and condolences can be left for the family at Schipperfuneralhome.com.