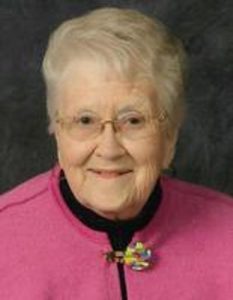 W. Jean Shears, age 96, of Sturgis, passed away early Thursday morning, March 3, 2022, at Thurston Woods Village in Sturgis.
She was born May 30, 1925 in Sturgis, daughter of the late Charles and Hazel (Weeks) Pierson.
Jean was a lifelong Sturgis resident and graduate of Sturgis High School with the class of 1943.
On September 4, 1943 she married Lee G. "Spike" Shears in Sturgis. He preceded her in death February 10, 1995.
Mrs. Shears retired from Sigrist Furniture Store in Sturgis following 52 years of dedicated employment. She had also worked as a car-hop at David's Dairy, the five and dime department store, and Giesen and Spiller Appliance Store, all in Sturgis.
She was a longtime active member of the Trinity Church in Sturgis where she was a member of the Altar Guild.
Jean loved playing many different games of cards and sharing a meal out with the "Old Ladies Church Group". She had been active in the Wall School PTA and Sturgis Band and Orchestral Association and served as a Girl Scout leader. She also loved cooking for her great grandchildren especially her macaroni and cheese.
She is survived by two daughters: Sharon (James) Hudson of Sturgis and Susan (David) Klauzenberg of White Lake; four grandchildren: Benjamin (Wendy) Hudson, Amy (Chad) Tomlinson, Derick (Inga) Emery and Christopher (Nancy) Emery; eight great grandchildren: Danielle Emery, Nicholas Emery, Nathan Emery, Myles Tomlinson, Elliott Tomlinson, Ian Tomlinson, Wesley Hudson and Addilyn Hudson and several nieces and nephews.
She was preceded in death by two brothers: C. Ward Pierson and Lloyd Pierson.
Sharon, Susan and the entire Shears family would like to give a huge thank you to the station one staff at Thurston Woods Village for the incredible care and love Jean received.
The family will receive friends from 3:00 to 5:00 P.M. Sunday at the Hackman Chapel of Hackman Family Funeral Homes, 114 S. Nottawa St. in Sturgis. Funeral services celebrating the life of Jean Shears will be held at 11:00 A.M. Monday at the Trinity Lutheran Church in Sturgis. The Revs. Calvin Kolzow and Larry Matro will officiate. A graveside committal will follow the service at Oak Lawn Cemetery in Sturgis.
The family suggests those wishing to make a memorial donation in Mrs. Shears' memory consider the Trinity Lutheran Church, 406 S. Lakeview Ave., Sturgis, MI 49091.
We encourage relatives and friends to share memories and condolences at www.hackmanfamilyfuneralhomes.com.