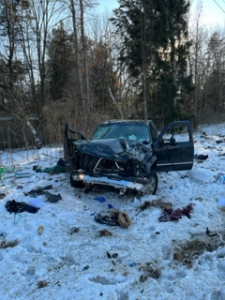 A Cassopolis man died over the weekend following a single-vehicle crash in Cass County's Jefferson Township.
Sheriff Richard Behnke said deputies were called shortly after 4:30 p.m. Sunday to the area of Calvin Hill Street and Turpin Road in response to a personal-injury traffic crash.
Investigators said 36-year-old William Jones was traveling south on Robinson Road and failed to negotiate a curve at Calvin Hill and Turpin. His vehicle left the roadway and struck an embankment, authorities said.
Jones was ejected from his vehicle and succumbed to his injuries at the scene. Seatbelts were not worn and it is unknown if alcohol and/or drugs were a factor in the crash, Behnke said.