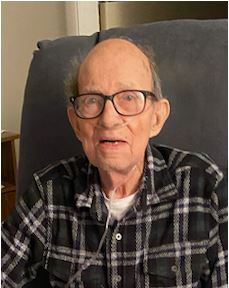 Reuben Leroy Miller, age 93, of Three Rivers, passed away Tuesday, March 15, 2022 at his home.  He was born February 1, 1929 in Centreville, a son of Noah and Sarah (Miller) Miller. Reuben was a life-long St. Joseph County resident.  On June 26, 1954 he married Sophia Pierson in White Pigeon.
As a young man Rueben farmed with his dad. He served in the US Army from 1951 – 1953. Reuben worked for Sturgis Carton for 41 years, retiring in 1991. He loved to travel and after retirement he drove for the Amish. He drove coast to coast with them for 18 years. Reuben could fix anything and often volunteered to help with various remodeling jobs. Reuben also loved hunting with his bow and gun and spent many years hunting with his brother. Reuben was a member of New Hope Assembly Three Rivers and enjoyed going to services until his health no longer allowed him to attend. He was also a member of the Grange and was on the State Installment Team.
Reuben also loved spending time with his many grandchildren and great grandchildren. He and Sophia spent 21 years wintering in Texas and then 4 years in Florida where they made many friends. Reuben will be missed by many. He never knew anyone to be a stranger.
Surviving Reuben are his wife of 67 years, Sophia Miller, Three Rivers; son Randy (Cheryl) Miller, Three Rivers; daughters Geraldine (Terry) Bloom, Coldwater, and Elizabeth (Fred) Carmel, Ft. Wayne, IN; 2 step sons Kenneth (Pam) Krontz, Boston, Ga, and Dennis (Teri) Krontz, Sioux City, IA; 11 grandchildren; 11 great grandchildren; and sisters Clara Grubert, Elkhart, IN, and Lydia (Frank) Schragg, Centreville.
Reuben was preceded in death by his parents, brothers John, Andrew, Edward-Russell, Wilbur, Levi, and Melvin Miller, and sister Katherine Hutson.
Relatives and friends will be received Friday from 4 to 7 PM at Eley Funeral Home in Constantine.  Religious services will be held at the funeral home on Saturday at 10 AM with Pastor Steve Miller Officiating.  Interment will be in Constantine Cemetery.
Memorial contributions may be made to West Michigan Cancer Center.
Please visit www.eleyfuneralhomes.com to sign Reuben's guest book and leave a message for the family.