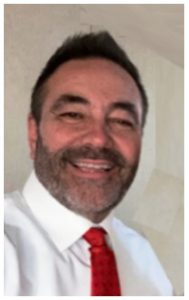 Steven E. Dimos, age 57, of Middlebury, passed away into Heaven on Friday, March 4, 2022 surrounded by his family, after a strong and courageous battle with cancer. He was born in Elkhart on March 23, 1964, a son of Loren and Sonja (Frisby) Dimos. Steve graduated from White Pigeon High School in 1982. While in High School he was a standout athlete competing in football, basketball, and track. Steve was a member of the 1980 Silver Dome team and was named a two-time all state running back, as well as being ranked eight nationally for kick returns. Following high school, he continued his education and football participation at Olivet College, receiving a degree in Business.
On November 27, 1993, he married Cynthia Bell at the Mottville Community Church. Steve was employed in sales for North American Molding in Edwardsburg for the past 19 years. He previously worked at Patrick Industries of Elkhart, and Coachmen Industries of Middlebury.
Steve's loving and giving heart lead him to teaching and coaching youth. He began coaching track, basketball, and football at White Pigeon High School in the late 1980's. He later accepted a coaching position for football and track at Howe Military School. Steve returned to White Pigeon in 2018, coaching football and basketball alongside his son. Steve was formerly honored by the Michigan Athletic Association as 'Track Coach of the Year', following their record breaking 93'-94' season.
He was a lifetime member of Mottville Community Church, where he served as Deacon. Steve was devoted to his Faith, and was a true man of God. His generosity and love for all was never failing. He lived by his conviction of putting God first, while instilling that into others.
Surviving are his wife Cynthia Dimos, Middlebury; sons Dustin (Kattlynn) Dimos, Middlebury, and Devin (Devon) Dimos, Centreville; grandchildren Kayden, Deegan, Karter, and Decker Dimos; sister Debra (Tony) Swank, Wolcottville; sister-in-law Kim (Daryl) Greising, Elkhart; and nieces and nephews Nick, Jake, and Hope Dimos and Derrick, Dylan, and Dawson Dunn. He was preceded in death by his parents and brother Greg Dimos.
Relatives and friends will be received Thursday, March 10, 2022 from 2 to 7 PM at Eley Funeral Home in Constantine. Religious services will be held Friday, March 11, 2022 at 11 AM at Mottville Community Church, with Pastor David Bell officiating. Interment will be in Mottville Township Cemetery. A luncheon will follow at the White Pigeon Fire Department.
In lieu of flowers, memorial contributions may be directed to Mottville Community Church, White Pigeon Athletic Boosters, or to the family c/o Cynthia Dimos. To sign Steve's guest book and leave a message for family, visit www.eleyfuneralhomes.com.