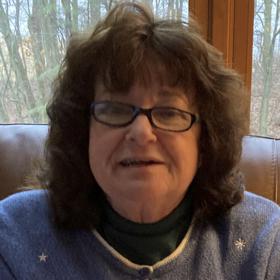 In as much as she gave, Susan Kipker was loved abundantly and cherished in the hearts of many. It was so easy to love Susan with her positive demeanor, loving ways, and giving heart. Susan defined the meaning of devoted wife, dedicated mother, doting grandmother, and loyal friend. Many counted her as their best friend, and her listening heart and strength of spirit was a place of comfort for those who came to know her. Generous in all ways, her giving and warmhearted nature was exemplified through her actions as she gave of her time and talents selflessly. With faith as her guide, Susan was truly a gift and inspiration to all who loved and cared for her.
Born on January 23, 1948, in the Michigan community of Kalamazoo, Susan was the daughter of Rex and Iva (Case) Gettys and grew up alongside her sister Nancy. It was during this time when the thankful end of World War II brought much prosperity to the U.S. as industry and manufacturing were at an all time high. With the onset of the "baby boom," prefabricated post war housing was cheap to build and for people to buy, and it solved many of the housing shortages taking place.
Susan enjoyed a childhood typical of her generation. She shared the friendships of many and attended the local schools. Her parents provided a good life for their young girls, and numerous family memories were made and enjoyed. Susan proved to be a little mischievous a time or two, like the time she got caught drag racing as a teenager, which landed her having to attend driving school. Although she tried to hide her shenanigans from her dad, who was the Mayor of Richland at the time, her dad ended up finding out about her deed anyway after her photo appeared in the local newspaper!
From a young age, Susan's love for the water and the beauty around her was imprinted on her heart. During her youth, she took to the beaches along the lakeshore with friends, and good times were shared by all. After high school, Susan really didn't have any aspirations of going to college and wasn't quite sure what she wanted to do with her life. Instead, Susan decided to attend beauty school, which was a perfect fit for her. In time, she began working as a beautician at Cher-Rena's Beaute Boutique in nearby Schoolcraft, where through the years she developed many friendships. Later, she also cut hair at several foster care homes.
Susan found love in the heart of Jerry Kipker. Jerry and a friend were cruising down Westnedge Avenue in Kalamazoo one night. They were just about to head home when two young women pulled up beside them. Susan had an appreciation for good looking cars, and Jerry's Roadrunner caught her eye, and the driver did too! The two began dating and in June of 1971, they were happily married. Before long, Susan came to know tremendous love when the couple welcomed the births of their two sons, Jason and Josh. Susan made a good home for her family and showered her sons with unconditional love. She was an attentive and involved mother, and there wasn't anything she wouldn't do for her boys; she was always there for her kids and family.
Faith played a vital role in Susan's everyday life, and her faith grew through the years. She became very involved with her bible study group and was dedicated to praying for her family and those who came her way. Truly a saint on earth, Susan's heart was endless when it came to the needs of others. Always reliable, anyone could count on Susan for a helping hand, a listening ear, or a shoulder to lean on. She never met a stranger, and she was nice to everyone she came in contact with, even hugging her garbage man! Susan always asked, "Why do people tell me all this stuff?" as people openly shared their own life stories with her, but it was because she was such a good listener and had a genuine heart.
Susan and her daughter-in-law became close, and she was always there for Julie with open arms. She never said no when it came to helping her family, whether it was watching her grand-dogs, or her granddaughter, Olivia, who was the delight of her life. She loved everything about Olivia, and it simply thrilled her to hold her, feed her, or read to her. The beautiful afghan blanket Susan made for her beloved granddaughter will always be cherished. There was never a time when Susan wasn't excited to hear the stories her family had to share about their day or lives. Her interest in others was genuine and heartfelt, as Susan knew no other way. True to her nature, she was always positive and always had a kind word to share.
Susan enjoyed cooking and loved her sweets! She especially loved making her own chocolate cake with homemade fudge frosting, and her pretzel salad was a family favorite and legendary at holiday gatherings. She enjoyed bowling for many years and participated in several leagues with Jerry and friends, and she liked trying her hand at the area casinos where she was partial to the slot machines. Susan loved gardening and had a massive garden, though it gradually became smaller as she grew older. Crafting was another passion of Susan's. She began by making things for wedding showers, baby showers, and other gift giving opportunities. She enjoyed bringing people joy with her handiwork, which became treasures of her loving thoughtfulness. She went on to learn how to expertly fold intricate angels and figures and words from the edges of book pages, which were so unique and interesting. These origami books of folded pages were always popular at the local craft fairs, and her booth was always placed front and center due to it's curious and captivating contents.
With her love of travel, Susan never hesitated in visiting her son in California or taking trips to northern Michigan. Her love for the beach and water continued, and it didn't matter if it was visiting the local lakes, the Pacific Ocean, or the Traverse City area. Susan relished any time spent enjoying the sandy beaches, water and the warmth of sunlight on her face. Water brought her peace and tranquility as she could sit on the shoreline and simply watch the world unfold around her, all the while taking in the peaceful sounds of the chirping birds and crashing waves.
Susan loved her many cats that became part of the family, as well as her grand-dogs. She liked giving her grand-dogs treats under the table, which earned her the nickname, "Grandma Treat." Of course, they were sure to follow her into the kitchen whenever she was cooking too!
To all who knew her, Susan Kipker was a woman filled with loving kindness. She counted her family as her greatest blessing and was always there for them. Susan enjoyed nothing more than being surrounded by those she loved. She knew the value of friendships, and she made many along life's way. Susan was thankful for much in her life, and through her loving kindness, she was an example to all when it came to being a good listener, giving, and thinking of the needs of others first and foremost. Her faith in God was freely shared, as was her positive nature. Although she will be deeply missed, the heart of Susan lives on in the memories she lovingly leaves behind.
Susan Kipker, age 74, of Schoolcraft, died peacefully on Thursday, February 24, 2022, surrounded by her family and grand-dogs, in a room filled with prayer and love. Sue was preceded in death by her parents and is survived by her husband, Jerry; children: Jason Kipker and Josh (Julie) Kipker; granddaughter, Olivia; and sister, Nancy (Rick) Ullrey; several nieces and nephews and her cat Muffin. Please join us at a Life Story Visitation on Thursday, March 3, 2022, 5 to 7 PM at Betzler Life Story Funeral Homes, 6080 Stadium Drive, Kalamazoo 269-375-2900. A Life Story Service will be held at 11:00 AM Friday, March 4, 2022, also at the funeral home where you can join her family for a reception following in the Life Story Center where food, drinks, and stories will be shared. Burial in Mt. Ever Rest Memorial Park. Please visit Susan's web page at BetzlerLifeStory.com to share favorite memories, photos, and to sign her online guest book. Memorial contributions may be made to SPCA of Southwest Michigan or Kalamazoo Humane Society.