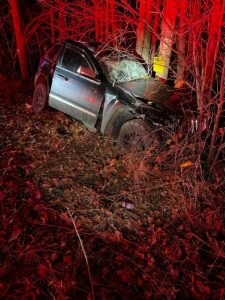 Two Three Rivers residents were injured after their vehicle was involved in a crash last week in Cass County's Marcellus Township.
Sheriff Richard Behnke said deputies were called shortly after 10 p.m. Thursday to an area on M-40, south of Pioneer Street.
Investigators said a vehicle driven by 33-year-old Linda Navarro was traveling south on M-40 when it crossed the center line, left the roadway and crashed into a tree.
She and a front-seat passenger, 34-year-old Felipe Navarro, had to be extricated from the vehicle.
The two were airlifted to Bronson Methodist hospital. It is unknown if alcohol, drugs or speed were factors in the crash, authorities said.