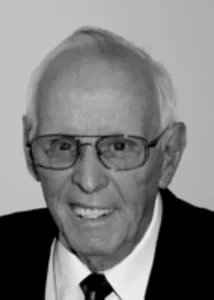 A. Wayne Berger passed away Friday, March 4, 2022 in Kalamazoo at the age of 93. He was born July 14, 1928, in Sturgis, son of Lloyd F. and Opal E. (Gunthorpe) Berger.
Wayne was preceded in death by his parents; son, Ward Berger; and brothers, Roger Berger, and Max Berger. On August 14, 1955, Wayne married the former Imogene A. Cromie who survives. Also surviving are his son, Douglas (Carol) Berger of Schoolcraft; granddaughters, Emily "Emma" Berger of Phoenix, AZ, and Allison (David) Whiting of Marcellus; great-grandchildren Shepherd and Haven Whiting; and nieces and nephews, Jennifer Cromie, Beth Rochow, Matthew Cromie, Fawn Whitley, and Kay Berger-Hamm.
Wayne graduated from Sturgis High School in 1946. He played football, basketball and baseball at Sturgis and enjoyed tennis. He also played fast-pitch softball for The Tri-State Litho team in Sturgis, often playing for more than 3,000 fans in the late 40's and early 50's. He earned all-state honors in basketball on his 1945 Sturgis state championship team. He attended Bowling Green University on a basketball scholarship, then transferred to Western Michigan University – graduating in 1950 with his bachelors and teaching certificate. He served in the army in Yuma, Arizona. Then he received his master's from WMU in 1955.
Wayne began his teaching career at Galesburg-Augusta Schools in 1953 where he also coached baseball, football and basketball. He later became a guidance counselor, administrator, assistant principal, and golf coach. He retired from G-A schools in 1983. He was also a Lions Club member. He coached Rocket Football in Portage.
Wayne and Imogene were longtime Portage residents and had two children – Ward (born Jan. 29, 1957) and Doug (born Jan. 13, 1958). They celebrated 67 years of marriage last August. He served on the board at the original School Employees Credit Union (now Arbor financial) in Kalamazoo and served on the first board of directors at the Moors golf club, where he played for many years. He recorded two hole-in-one shots during league play and was able to shoot his age. He and Imogene volunteered with Meals on Wheels in Kalamazoo and Portage for over 25 years. They loved to travel and enjoyed theater. They went south for the winter for 25 years to Gulf Shores and Orange Beach, Alabama and had many great friends. He was an avid fan of local high school sports and loved the Detroit Tigers.
A memorial service will begin at 11:00 Friday morning, March 11, 2022, at Langeland Family Funeral Homes Burial & Cremation Services, 3926 S. 9th St, Kalamazoo MI 49009 where Wayne's family will receive guests beginning at 10:00 and following the service during a reception. Graveside services will begin at 2:00 in Portage Central Cemetery. In lieu of flowers, please consider a gift in Wayne's memory to Milestone Senior Services – Meals on Wheels. To view Wayne's personalized web page, please visit https://www.langelands.com