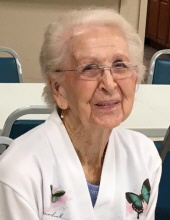 Winnifred Pauline Wells, age 100, of Avon Park, Florida and former resident of Bronson and Sturgis, passed away Wednesday morning, March 2, 2022 at the Somers Hospice House in Sebring, Florida.
She was born May 31, 1921 in Mendon, daughter of the late Fred and S. Zelta May (Wilber) Smith.
Mrs. Wells resided in Avon Park since 1997 coming from Sturgis and she lived many years in Bronson.
On June 6, 1937 she married Ralph William Wells, Sr. in Coldwater. He preceded her in death April 9, 1997.
She had worked as a realtor and owned and operated Wellsells Real Estate Company in Bronson.
She and Ralph made and sold porcelain dolls and custom clothing for the dolls. She enjoyed playing cards and going to the senior center in Sturgis and Avon Park and was an accomplished player of Shuffle Board and loved time with her family.
She is survived by one daughter: Patti Jeffo of Avon Park, Florida; two sons: Bill (Billie) Wells of Sturgis and Herb (Ruby) Wells of Kentucky; 23 grandchildren and several grandchildren, great grandchildren and nieces and nephews.
She was preceded in death by her husband, daughter: Betty V. Wegner; great grandson: Aiden Wegner, son-in-law: John Jeffo; three sisters: Gela Matthews, Catherine Ackerman and Minnie May Nolen and four brothers: Fred, Norval, Gene and Victor Wells.
Visitation and funeral services will be held in late March and times will be announced. Interment will take place at the Pleasant Hill Cemetery in Bronson.
The Hackman Family Funeral Homes of Sturgis is entrusted with the arrangements.
Relatives and friends are encouraged to share memories and condolences at www.hackmanfamilyfuneralhomes.com.