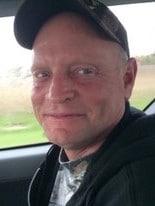 Robert Davis Jr., age 53, of Mendon, passed away on Monday, April 11, 2022.
Bob was born on March 31, 1969 to Robert Davis Sr. and Judith (Clough) Davis in Jackson, Michigan.
He grew up in Springport, Michigan, where he attended Springport High School and graduated in 1987. Bob played the drums in high school and was part of the Future Farmers of America (FFA).
Bob enjoyed hunting and fishing with his dad. His love for hunting and fishing lives on through his children.
He never knew a stranger and would always make you feel welcomed. He would do anything for a laugh and enjoyed a good dare.
Bob was preceded in death by his parents, Robert Davis Sr. and Judith Ann (Clough) Davis.
Surviving is his wife, Sarah (Reynolds) Davis; his children, Kari Davis, Heather (Dustin) Miles-Thompson, Brandon Queen, Kevin Davis, Austin Davis; grandchildren, Thomas James, Jasmyn, Macie; sisters, Juli (Don) Luttrell, Debi Stocker, Katrina (Sam) Travis, Donica Davis, and several nieces and nephews.
A memorial service will be held on Saturday, April 23, 2022 at 1:00 p.m. at Eaton Rapids Church of the Nazarene, 2225 S. Michigan Rd., Eaton Rapids, Michigan.
Arrangements by Hohner Funeral Home.