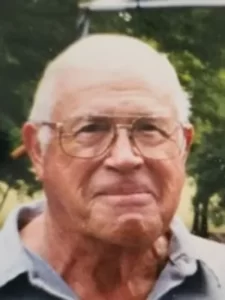 Robert Irvin Mitchell died on Tuesday, March 29, 2022 in Howell, Mchigan having lived a long and full life. He was preceded in his death by his loving wife of 72 years; Mary Margret Mitchell. Their family includes Diana Fair, Robert Mitchell II, Karen Gotianse and Patti Easton; daughter-in-law Mary Mitchell and sons-in -law Vicente Gotianse and Charles "Chuck" Easton. Bob & Mary have 9 grandchildren; Jennifer, Joe, Jamie, Kristi, Amy, Andrew, Jon, Geoff and Chris. They also have 11 great grandchildren. Robert was preceded in death by his brother John and has a sister, Mary Taylor who lives in Akron, Ohio.
Robert was born on a farm near Mendon to Pleasant and Evelyn Mitchell on January 30, 1928. He graduated from high school at Mendon and moved to Sturgis where he worked for various companies. In 1948 he married Mary Zeigler from Wayne, Ohio and the cousin of his best friend in High school. They lived in Sturgis for 20 years raising their family. Robert took a job as an apprentice Lithographer with Tri-State Printing in Sturgis where he also starred on Tri-State's semi-pro softball team. Upon retirement, Bob & Mary moved to the Silver Dollar Golf & Trap Club in Odessa, Florida where they enjoyed retirement for 25 years. They had recently moved to Village Manor in Hartland, Michigan.
Bob loved sports and was an outstanding athlete. His first love was baseball where he excelled and earned tryouts for the Detroit Tigers and New York Yankees. Instead of the farm team life, he chose to stay with his wife and children in Sturgis and instead took a position with the Tri-State Amateur softball team. "Bullet Bob" was a premiere pitcher ultimately earning him an induction into the Michigan Fast Pitch Softball Hall of Fame. Upon moving on from softball, Bob picked up golf and trap shooting where he also excelled. Bob had 11 holes in one by the time he gave up golf at the age of 90. In trap shooting he won many awards including a class championship at the Grand American National Championship.
Robert Mitchell chose to be cremated.  A "Celebration of Life" for our father will be held Saturday, May 21, 2022, from 1:00 to 4:00pm at the Sturgis Enrichment Center, 306 N. Franks Ave., Sturgis. A light luncheon will be served.
In lieu of flowers, the family has asked for donations to the American Cancer Society.
Arrangements entrusted to Watkins Brothers Funeral Homes – MacDonald's Chapel, Howell, MI
Please share a condolence or memory with Robert's family at www.watkinsfuneralhomes.com