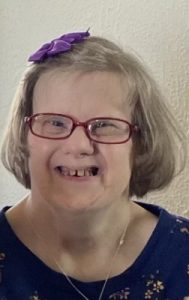 Catherine Marie Bogen, age 57, of Centreville, passed away Easter morning April 17, 2022 at her home.
She was born February 28, 1965 in Sturgis,  daughter of the late Donald G. and Alberta J. (Ritter) Bogen.
Cathy, as everyone called her, attended kindergarten for 3 years at Centreville Public Schools. She then attended Pathfinder, where she learned sign language and life skills, graduating in 1991.
Cathy was previously employed at the St. Joseph Community Co-op. She also was a participant of the Special Olympics Bowling League for many years.
She attended Adapt in Sturgis for many years, where she made many close friends and enjoyed all the activities and outings she participated in.
Cathy was a gentle and caring person. She saw the world as a 5-year-old. She loved people and everyone who knew her, loved her. She never met a stranger. She always had a smile. Cathy loved dancing to her favorite music, shopping, coloring, puzzles, movies, crafts (especially latch hook kits) and spending time with her friends and family.
Surviving are her siblings: Cheryl (Chuck) Arver, Rick (Doris) Bogen and Ron (Linda) Bogen; nieces and nephews: Chris Arver, Craig Arver, Michelle Rohrer, Angela West, Sara Troyer, Royce Bogen, Reise Bogen, Rodney Bogen, Reid Bogen and their families and also survived by her aunt Judy Farrand and her foster mom: Doretha Meek.
She was preceded in death by her parents and a great nephew: Corbin Arver.
The family will receive friends from 11:00 A.M. to 1:00 P.M. Thursday, April 21st at the Hackman Chapel of Hackman Family Funeral Homes, 114 S. Nottawa St. in Sturgis where funeral services celebrating the life of Catherine Marie Bogen will immediately follow the visitation at 1:00 P.M.  The Rev. Clint Zehr of the Life Church in Centreville will officiate. A graveside committal will follow the service at Oak Lawn Cemetery in Sturgis.
The family suggests memorial donations in Cathy's memory be directed to her foster mom for all the love and care she gave Cathy for so many years. Donations can be directed c/o: Cheryl Arver, 22481 Roys Rd., Centreville, MI 49032.
We encourage relatives and friends to share memories and condolences at www.hackmanfamilyfuneralhomes.com.