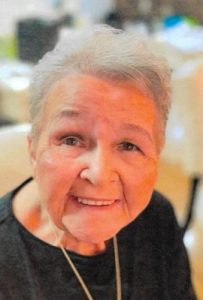 Delphine Catherine (Zielinski) Marazita, born April 1, 1934, went to be with her savior late Sunday evening, April 3, 2022, two days after her 88th birthday. She was surrounded by family, resting peacefully in the comfort of her home.
Daughter of the late Alex and Phyllis (Winkel) Zielinski. She was born and raised in South Bend, and alumni of Washington High School. In 1955, she moved to Sturgis after marrying Tony Marazita on April 23, 1995 at St. Casmir's Catholic Church, in South Bend.
When speaking with Delphine she would glow when talking about her younger years, spending time on her grandparents farm, where "you always had to work before you could play." She would then talk about the fun days of going to the beach with friends, after finishing a shift at the AT&T telephone company, as a long distance operator. However, her favorite past-time was going to dances, which is where she first met her husband, Tony. Her foot would always still tap to the beat when playing her favorite music, Polka.
Upon settling in Sturgis with her husband, Tony, they operated Mara Sweet Shop, a well known spot to locals. During this time she not only helped in the store, but was also raising her four daughters: Catherine, Tamie, Dawn, and Tina.
After the closing of Mara Sweet Shop she focused on raising her daughters. She helped establish and was a leader of a Girl Scout troop, at Holy Angels, a band parent, and took on the role as the care-giver for the many animals that her daughter(s) would bring home. She then returned to the workforce and started working at a local abstract office.
Delphine also volunteered at the Sturgis Hospital gift shop, was a member of the Red Hat Society, faithful member of Holy Angels Catholic Church, the church Altar Society, Star of the Sea Group, and enjoyed playing in multiple bridge and euchre groups.
In her later years she found joy in going to casinos, painting, partaking in the exchange programs, where she traveled to Germany, and going on various bus trips with friends. Yet, some of her happiest moments were the times spent with family, especially her grandchildren and great-grandchildren. Delphine is survived by her four daughters: Catherine (Rick) Beach of Sturgis, Tamie Baccoli of Rodney, Dawn (Richard) Russell of Traverse City, and Tina (Lon) Morency of Sturgis; 7 grandchildren: Andrea (Mike) Miszak, Dr. Paul (Linda) Beach, Christopher (Kaitlin) Russell, Alexandra (Raphael) Beach-Claxton, Chantalle (Heath) Wagenmaker, Connor Morency, and Dominique Beach; 7 great-grandchildren with one expected in early June; and 1 brother, Gerald of South Bend.
Delphine was preceded in death by: her husband, parents, brother (Eugene), and son-in-law, Larry Baccoli.
Her family would like to give a very special thank you to Stephanie and Morgan of Three Rivers Hospice and Katie Holden of Full Circle Home Health Care.
In accordance with her wishes cremation has taken place. The family will receive friends from 10:00 A.M. to 12:00 P.M. Saturday, April 9th, at the Rosenberg Chapel of Hackman Family Funeral Homes, 807 E. Chicago Rd. in Sturgis where the Most Holy Rosary of the Blessed Virgin Mary will be recited at 12:00 P.M. Saturday. Following the Rosary a scripture service will begin and the sharing memories and eulogies by the family. Private burial of the remains will take place at Oak Lawn Cemetery in Sturgis at a later date.
In lieu of flowers memorial donations would be appreciated to Holy Angles Catholic Church, 402 S. Nottawa St., Sturgis, MI 49091 or St. Jude Children's Research Hospital, 501 St. Jude Place, Memphis, TN 38105.
We encourage relatives and friends to share memories and condolences at www.hackmanfamilyfuneralhomes.com.