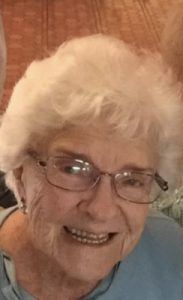 Dorothy K. Baker, age 99, of Klinger Lake, White Pigeon, and former longtime resident of Chicago, Hinsdale, IL and Ft Myers FL, passed away Sunday afternoon, April 3, 2022 at Thurston Woods Village in Sturgis.
She was born July 6, 1922 in Chicago, daughter of the late Frank and Martha Kuffel.
Mrs. Baker moved to White Pigeon 2 ½ years ago to be closer to her daughter. Most of her life was lived in Chicago where she was a graduate of Foreman High School. She and her husband also enjoyed 35 years residing in Florida.
On June 14, 1945 she married Floyd D. Baker in Chicago. He preceded her in death in July of 2000.
Mrs. Baker was an accomplished secretary and loved working in downtown Chicago. Her career began in the Wrigley Building where she worked for several years before accepting a position with Hartford Insurance where she retired following over 20 years of dedicated employment.
She was a member of the Kelly Greens Golf and Country Club in Fort Myers, Florida. Mrs. Baker was truly an athlete that enjoyed participating in many sports including playing golf at which she achieved two holes in one, bowling, water skiing, snow skiing, and roller skating, and she loved Shelley's dogs Ozzie and Alex.
She is survived by one daughter: Shelley (Robert "Moss") Cartwright of Klinger Lake, White Pigeon, and Clarendon Hills, Il.; her grandchildren: Tim Cartwright of Lake Tahoe, Bill (Becca) Cartwright of Omaha, and Susie (Trent) Pearson of Ann Arbor; great grandchildren: Abby, Grant, Hunter, Will, Alice and Ben and many loving nieces and nieces and nephews.
She was preceded in death by her sisters: Gertrude Narowski, Helen Earnest and Genevieve Lindquist and brothers: Walter Kuffel, Leonard Kuffel and Robert Kuffel.
In accordance with her wishes cremation has taken place. A memorial service celebrating and honoring the life of Dorothy K. Baker will be held at the Union Church of Hinsdale in Hinsdale, Illinois at a later date to be announced.
The Hackman Family Funeral Homes of Sturgis is entrusted with the arrangements.
The family suggests those wishing to make a memorial donation in Mrs. Baker's memory consider Thurston Woods Village Endowment Fund, 307 N. Franks Ave., Sturgis, MI 49091.
We encourage relatives and friends to share memories and condolences at www.hackmanfamilyfuneralhomes.com.