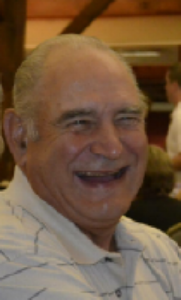 Dwight Leroy Sholl, age 80, of Sturgis, passed away Tuesday, April 12, 2022 in Florence Township, Michigan.
He was born July 12, 1941 in Bryan, Ohio son of the late John Huber and Berniece Marian (Rohrs) Sholl.
Dwight resided in Sturgis since 1970 coming from Burr Oak. His early life was lived in Butler, Indiana where he was a graduate of Butler High School with the class of 1959. He furthered his education at the Fort Wayne Bible College in Fort Wayne, where he earned a Bachelor Degree.
On June 27, 1964 he married Phillis Leone Rice in Princeton, Illinois. She preceded him in death April 9, 2016.
He owned and operated Sholl Landscaping and Excavation in Sturgis since 1971 and was still doing some small jobs.
He attended the Sturgis Evangelical Church and was a longtime member of the Sturgis Wesleyan Church, now known as Radiant Life.
Dwight enjoyed tinkering with tractors, vegetable gardening, making maple syrup and molasses, ice fishing and he was a beekeeper. He had hobbies and involvements but what he truly loved was time spent with family.
He is survived by three sons: John Sholl of Guyton, Georgia, Matthew (Anita) Sholl of Sturgis and Christopher (Libby) Sholl of Grandville; six grandchildren: Cody, Johnathon, Brady, Micah, Daniel and Elizabeth; three sisters: Marlene Embry of Fort Wayne, Elaine Moughler of Butler, Indiana and Carolyn (Nolan) Farrier of Tulsa, Oklahoma; one brother: Keith (Delores) Sholl of Ohio and several nieces and nephews.
He was preceded in death by one brother: Vic Sholl.
The family will receive friends from 5:00 to 8:00 P.M. Tuesday at the Sturgis Evangelical Church, 28201 E. Fawn River Rd. in Sturgis. Funeral services celebrating the life of Dwight L. Sholl will begin at 11:00 A.M. Wednesday, April 20th at the Radiant Life Church, 907 N. Nottawa St. in Sturgis. The Rev. Troy Diersing of the Sturgis Evangelical Church will officiate. A graveside committal will follow the service at Oak Lawn Cemetery in Sturgis.
The Hackman Family Funeral Homes of Sturgis is entrusted with the arrangements.
The family suggests those wishing to make a memorial donation in Mr. Sholl's memory consider World Gospel Missions, P.O. Box 948, Marion, IN 46952.
We encourage relatives and friends to share memories and condolences at www.hackmanfamilyfuneralhomes.com.