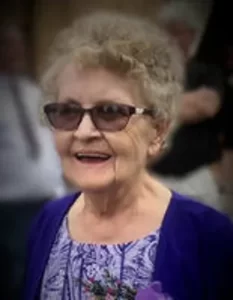 Jacqueline A. Barrows, age 85, of LaGrange, received her angel wings on Sunday, April 10, 2022 at Life Care Center in LaGrange.  Mrs. Barrows was born on April 19, 1936 in Sturgis to Clair and Ethel May (Fellers) Johnson.  On January 11, 1958, she married her husband of 64 years, Phillip Barrows.  She diligently worked for 20 years at Howe Military School in the kitchen.  Listening to Elvis music was one of her favorite pastimes.  However, Jacqueline's favorite hobby was her family.  She loved being a wife, mother, grandmother, and would go above all measures to ensure she spent as much quality time with them as possible.
Survivors include:
Spouse, Phillip Barrows of LaGrange.
Daughter, Diana Lynn and Richard Cruea of Howe, IN.
Granddaughter, Jessica Baumeister of Sturgis.
Granddaughter, Louella and J.J. Leonard of Topeka, IN.
Granddaughter, Amanda Cruea of Elkhart.
Granddaughter, Crystal and Stacy Tomlinson of Centreville.
Granddaughter, Sheila and Larry Sackett of Centreville.
Granddaughter, Heather and Brad Demerly of Howe.
Grandson, Eric Barrows of Howe.
Grandson, Ryan Barrows and Khristine Fry of Howe.
20 Great-Grandchildren.
Jacqueline was preceded in death by her parents, son, Phillip Barrows Jr., and 3 sisters; Dorothy Ruth Smith, Audrey Elaine Johnson, and Betty Bailey.
A memorial service in Jacqueline's honor will be held on Saturday, April 30, 2022 at 3:00pm at The Salvation Army, 105 North Fourth Street, Sturgis, MI 49091.
Officiating the service will be Tim and Sally Sell.
To sign the online guestbook or to share a memory, visit www.hessfuneralhome.com or find us on www.facebook.com
Arrangements and care trusted to Hess Funeral Home and Cremation Services of LaGrange, IN.