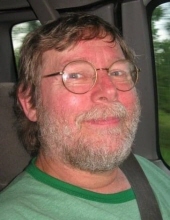 John Edward Grate, age 69, of Burr Oak, passed away Saturday, April 9, 2022 at his home.
He was born July 6, 1952 in LaGrange, a son to the late John Jeremiah and Ethel Lucille (Thompson) Grate.
John had been a resident of Sturgis and Burr Oak most of his life and graduated from Sturgis High School with the class of 1971.
He had been employed with International Paper for over 30 years when poor health forced him to retire a few years ago.
He was first married to Peggy Jo Mullins who preceded him in death, then to Velma Minshall who also preceded him in death, and then married to Caren Stevens-Grate and this marriage ended in divorce.
John enjoyed hunting, coin collecting, crossword puzzles, collecting elephants, gardening, playing board and card games, playing pool on a pool league, audio books, and spending time with his grandchildren.
Surviving are 2 daughters: Cassandra Lucille Waltz of Sturgis and Mary-Cathrine Christine Grate of Detroit; 5 stepchildren: Timothy James Stevens, Christopher Michael Stevens, Doug Minshall, Shannon Minshall, and Nicole Minshall; grandchildren: Alexis Dakota Waltz, Brock Michael Waltz, Zander Cole Grate, and Aria Lucille Grate; a brother: Jerry Earl Grate; and a sister: Joy Lynn Asher.
He was preceded in death by his father, mother: Ethel Lucille Mieras, and a stillborn grandson: Dominic Edward Jeremiah Grate.
The family will receive friends and relatives for a time of sharing memories from 5:00 to 7:00 P.M., Saturday, April 16, 2022, at the Rosenberg Chapel of Hackman Family Funeral Homes, 807 E. Chicago Rd., Sturgis, MI 49091.
Memorial donations may be directed to the family, envelopes are available at the Hackman Family Funeral Homes who have been entrusted with the arrangements.