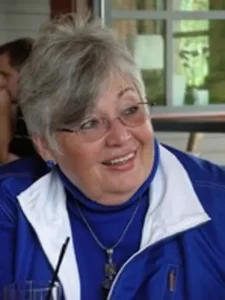 Karen Waldrop, age 80, a resident of the north Georgia mountain community of Big Canoe, peacefully passed away under hospice care on Thursday, March 10, 2022 at her home with many family members nearby. Her death was attributed to non-Covid respiratory system failure.
She was born in Kendallville, Indiana on January 4, 1942 but moved at age 12 to nearby Sturgis, when her family relocated to be closer to her father's workplace. Karen was a 1959 graduate of Sturgis High School and worked during and after her high school years at Sturgis Hospital where she developed a strong interest in the healthcare field. While she would have liked to attend medical school to become a doctor, the cost of that education was not affordable by her then-widowed mother who had become a Nurses Aid at the hospital when Karen's father (a World War II Navy veteran who served in the Pacific theatre) died at the early age of 42 from kidney disease. Several of the doctors at the hospital recognized Karen's interest in and enthusiasm for healthcare, as well as her strong work ethic and team leadership skills, and rewarded her by paying for her three years of further education at the Mercy School of Nursing in Jackson to become a Registered Nurse.
Upon her college graduation, her school-imposed prohibition of student marriages was no longer applicable. The same for her fiancé, Keith Waldrop, a June, 1964 graduate of the U.S. Naval Academy who would be undergoing almost two years of additional schooling to prepare to enter the Nuclear Submarine Service. Karen and Keith were married in Fort Wayne on June 6, 1964 to begin almost 58 years as life partners. As a new Navy wife, Karen accompanied her husband to multiple duty stations in Havre de Grace, Maryland, Westfield, Massachusetts (where their first son, Kenneth, was born in 1965) and New London, Connecticut where she worked as an RN in local hospitals at each of those locations. Her longest period of employment was at a Connecticut state mental hospital near New London where she became a specialist in psych nursing.
Following her husband's decision to leave Navy active duty in December, 1969 to attend graduate business school in Ann Arbor, Karen was employed at the University of Michigan Hospital's Neuropsychiatric Institute. Her last tour as an RN was at a local hospital in Livonia, Michigan where she and Keith bought their first home in their final transition to "civilian life" and where Karen gave birth to their second son, Kirk, in 1972.
Karen and Keith made several moves during his 35-year career in consulting and financial services, taking them to Marietta, Georgia, Ridgewood, New Jersey, Roswell, Georgia and, finally in 1998, Big Canoe, Georgia. For more than 20 years, they maintained a home at both Big Canoe and Dataw Island, South Carolina near the town of Beaufort. At every location, Karen became a very active volunteer in the local community as president or other leader of homeowner associations, country club boards and committees, bible study groups, garden clubs and women's golf associations. She and Keith were very active travelers, visiting all 50 states and more than 100 countries. After three decades of sailing, they purchased a motor home (Karen's "land yacht") and drove it 65,000 miles throughout the U.S. and Canada during 10 summers. Glacier National Park (where she once chased a Black Bear down a trail) was always her favorite destination. She was very fond of golf, hiking, reading, taking cruises, playing card games with friends and family, cooking and entertaining. She enjoyed a well-earned reputation as an excellent cook and welcoming entertainer. All made possible by her practice of always having things extremely well-organized and planned.
She loved music (particularly jazz, old standards, classical and salsa), but could not carry a tune in a bucket since she was largely tone-deaf, but that just made her even more lovable as a person. She loved people, and people loved her and her bubbly personality. She was often the go-to person able to help friends and acquaintances deal with many of life's problems and challenges.
In addition to her husband, Keith, Karen is survived by their son, Kenneth and his wife Lisa, their daughter, Anna and son, Nicholas all of Fairfax, Virginia, and their other son, Kirk and his wife Wendy, and their two daughters, Emily and Mary all of Roswell, Georgia. Karen was always very close to her only sibling, Robert Perry his wife Christine and their two sons, Matthew and Mark all of Warner Robins, Georgia as well as her in-laws, Park and Madeline Waldrop of Alpharetta Georgia and Phil and Jeannette Waldrop of Big Canoe, Georgia. Karen was preceded in death by her parents, Leslie Claire Perry and Orpha A. (Taylor) Perry.
A Celebration of Life and interment is scheduled to take place at Greenlawn Funeral Home and Memorial Park, 6750 Covington Road, Fort Wayne, on Thursday, April 14, 2022 at 11:00 a.m. with a gathering of family and friends one hour prior. In lieu of flowers, please consider a donation in Karen's memory to the Big Canoe Chapel Women's Fellowship, 10530 Big Canoe, Jasper, Georgia 30143. On-line donations to the Women's Fellowship, a 501(c)(3) organization, may be made via the website, www.bcchapelwomen.org. Condolences and memories can be shared online at www.greenlawnmpfh.com.