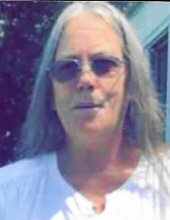 Kathryn Joan Weigel, age 64, a lifelong Sturgis resident, passed away on Sunday, April 10, 2022 at her home.
She was born March 3, 1958 in Sturgis, a daughter to the late Jerry Lynn and Judith (Clark) Baker.
Kathryn had worked various jobs and she had a huge heart and loved spending time with her family and friends. She also enjoyed kayaking, camping, the outdoors, crocheting, Kid Rock concerts, and doing activities with her grandchildren and great-grandchildren. Kathy was also very active in the Sturgis Toy Run as well as many other volunteer events.
Surviving are one daughter: Megan (Eric) Connelly of Sturgis; grandchildren: Alexus, Ari, and Tristin; great-grandchildren: Elena and Landon; a sister: Lorrie (Sonny) Swartzentruber of Fallon, NV; one brother: Doug (Cathy) Baker of Sturgis.
She was preceded in death by her parents: Jerry Baker and Judith Hyde.
According to her wishes, cremation has taken place. The family will receive friends and relatives for a time of celebration and sharing from 1:00 to 3:00 P.M., Saturday, April 16, 2022 at the Neuman-Wenzel American Legion Post #73, 500 W. Chicago Rd., Sturgis, MI 49091.
Memorial donations may be directed to the family, envelopes are available at the Hackman Family Funeral Homes of Sturgis which have been entrusted with the arrangements.