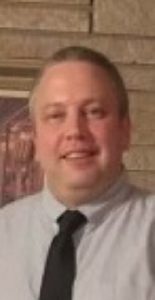 Kurt Georg Franz, age 50, passed away unexpectedly Thursday afternoon, March 31, 2022 at his home.
He was born April 5, 1971 in Sturgis, son of Helmut N. "Bill" and Martha (Gingerich) Franz.
Kurt was a lifelong resident of the Burr Oak area and graduate of Burr Oak High School with the class of 1989. He furthered his education at Glen Oaks Community College earning his Associate Degree in 1991 before attending Northern Michigan University in Marquette where he earned a Bachelor Degree in Accounting and Computer Science in 1995.
On April 1, 1996 he accepted a position with First Telecommunication in Grand Rapids where he was currently employed installing and repairing phone systems.
He was a member of the Locust Grove Mennonite Church in Burr Oak.
Kurt had a true love for most all sports but had a passion for the game of baseball and softball. He was a member and pitcher for the Locust Grove softball team where he was known as "The Kat" for his ultra-quick reaction and fielding skills while on the mound. Kurt was a loyal and avid fan of the University of Michigan Wolverines.
He is survived by his son: Kyle Franz and daughter, Kara Franz, both of Angola; his mother: Martha Franz of Burr Oak; sister: Tonya (Matthew) Barrington of Bronson; brother: Matthew (Audra) Franz of Sturgis; his soulmate: Kelly Franz of Angola, and nieces and nephews: Cecelia Franz and Regan, Heidi and Aaron Barrington.
He was preceded in death by his father; brother: Jason Daniel Franz and sister: Heidi Marie Franz.
The family will receive friends from 4:00 to 7:00 P.M. Monday at the Locust Grove Mennonite Church, 29525 Findley Rd., Burr Oak where funeral services celebrating the life of Kurt Franz will begin at 10:00 A.M. Tuesday. Pastor Matthew Yoder will officiate. A graveside committal will follow the service at the Locust Grove Cemetery.
The Hackman Family Funeral Homes of Sturgis is entrusted with the arrangements.
Memorial donations would be appreciated to Martha Franz, 62500 Middle Colon Rd., Burr Oak, MI 49030. Funds will be used for the future educational needs of Kurt's son and daughter.
We encourage relatives and friends to share memories and condolences at www.hackmanfamilyfuneralhomes.com.