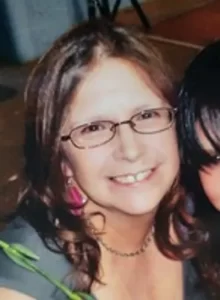 Pamela Jo Getzloff, age 63, of Sturgis, passed away on Friday, March 25, 2022. She was born October 10, 1958 in Three Rivers to the late Charles and Luella Getzloff. Pam graduated from Sturgis High School in 1976 and attended Glen Oaks Community College. She was a devoted homemaker and avid collector of many things and enjoyed shopping, time on the lake, fishing and camping, but most of all, spending time with her grandbabies.
Pam is survived by her fiancé, Willard Pelfrey; children, Robert Charles (Paige Terrell) Anteau, Tylynn Denise (Octavio) Montoya; grandbabies, Jasmine Denise Anteau, Justin Bradley Stroop, Christian Montoya, Maccee Cain (Bobby) Flowers, Teagan Marie Anteau, Alicia Ann Montoya, Leo Montoya, Chloe Mae Stroop, Vivianna Marissa Montoya, Ella June and Violet Mae Anteau, great-grandbabies, Eleanor Grace Middaugh and Charlie John Flowers ; brothers, Charles (Karen) Getzloff, Jr. and Michael Lee Wilcox. She was predeceased by her sister, Frances Smith.
Memorial Contributions may be directed to The National Audubon Society or Community Humane Shelter of Steuben County. Fond memories and expressions of sympathy may be shared at www.AdvantageHighlandPark.com for the Getzloff family.