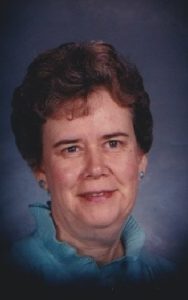 Priscilla Elaine (Tritch) Hoopingarner of Sturgis, passed away early Sunday Morning, April 3, 2022 at her residence in Thurston Woods at the age of 90.
Priscilla was born October 27, 1931 in Sturgis, daughter of Cyrus Elmer Tritch and Ruth Bell (Weaver) Tritch.
She graduated from Bronson High School in 1950 and attended Western Michigan University, receiving a Bachelors Degree in 1960 and a Masters Degree in 1962. She was married in 1952 to Doyle Hoopingarner, and they divorced in 1960.
Priscilla is survived by her daughter Lisa (Dan) Tyler and her son Kirk (Kim) Hoopingarner and grandchildren Meredith (Dave) Lowe, Adrienne (Vlad) Hoopingarner, Tess Hoopingarner, Lydia Hoopingarner, Claire Tyler and great-granddaughter Audrey Rose Lowe.
She was preceded in death by her husband Doyle, her sister Marie Paul and her brother-in-law Gordon Paul.
Priscilla was a beloved and dedicated elementary school teacher at Sturgis Public Schools for 33 years from 1960 to 1993. The first four years she taught at Fawn River, and the remaining 29 years at Congress School. She is well remembered for her dedication, compassion and for providing an inviting classroom environment for learning and enrichment. The impression that she left on her students is loving and lasting. She also enthusiastically introduced many students to the bygone world of the Old Stone School.
Priscilla was extremely active in community service as a member of Delta Kappa Gamma Society, the MEA/NEA, the MARSP, the St. Joe County Historical Society (board member), the Sturgis Historical Society, the Branch County Historical Society, Adventures in Lifelong Learning, the Sturgis Senior Center Board of Directors, the Sturgis Kiwanis East Side, and the Sturgis Garden Club.
She received numerous awards, including the John E. Oster Memorial 1988 for Excellence in the Classroom, the Delta Kappa Gamma Lifetime Service Award and the 2001 Sturgis Citizen of the Year.
Priscilla, while being an excellent school teacher and an involved community member, lovingly and successfully raised her son and daughter as a single parent. She attended all of their school activities from ballet to band to theatre and chaperoned as many school functions as possible. This caring, nurturing relationship she had with her children carried onto her grandchildren, whom she loved dearly.
She had a deep appreciation for nature and all of its creatures, often attending conservation camp in Northern Michigan. She also visited many of the national parks with friends on fun-filled Menno bus excursions in her later years, during which she was notorious for her wit and great sense of humor. She often enjoyed putting her life's most precious moments into prose; whether it be a poem about one of her bus trips or an annual Christmas card cleverly updating her loved ones on her family. She will be greatly missed by family and friends.
Priscilla's wishes were to be cremated. Her children Lisa and Kirk will have a memorial service to celebrate Priscilla's life at 2:00 P.M on Sunday, June 5, 2022 at Camp Fort Hill, 21710 North Everson Drive, Sturgis, Michigan.
The Hackman Family Funeral Homes of Sturgis is entrusted with the arrangements.
In lieu of flowers, Priscilla's children suggest donations either to Sturgis Community Foundation, 310 N. Franks Ave., Sturgis, MI 49091 to provide funds for grants to teachers, or Camp Fort Hill c/o: Sturgis Community Foundation, 310 N. Franks Ave., Sturgis, MI 49091.
We encourage relatives and friends to share memories and condolences at www.hackmanfamilyfuneralhomes.com.