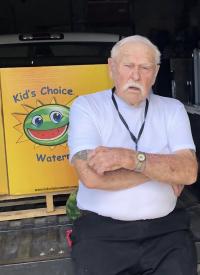 Richard Jacobs passed away peacefully at the age of 95 with the presence of his family, at Safe Haven, Three Rivers, on March 28, 2022.
Richard was born August 31, 1926 in White Pigeon. He served his country during WW II, Seaman first class. He married the love of his life Joan Peters, on January 1, 1948. He was a bricklayer for many years. He loved, fishing, gardening, family, and turtle trapping. Richard was actively involved in the American Legion, VFW, and food distribution. He was preceded in death by his parents, William and Edith, nine siblings, Mary Mueller, Elmer, Roy, Dale, Frank, Melvin, Clifford, Raymond and Mildred. Daughter Jill Pagels, one grandson Daniel Pelfrey. He is survived by his wife Joan Jacobs, son Alfred and Jennie Jacobs, Sisters Martha Ruggles of Three Rivers, Marie Cole of Kalamazoo, and a brother David and Jane Jacobs of Constantine.
Richard showed kindness to others and lived his life full of zest.
Memorial Service will be Friday, April 22, 2022 at Bethany Chapel, 15130 Millard Road, Three Rivers. Visitation will begin at 10:00 AM. Service at 11:30 AM. Luncheon will follow at the church.
In lieu of flowers memorial contributions can be made to the American Legion, VFW or Wounded Warriors. Envelopes are available at Hohner Funeral Home in care of his arrangements.