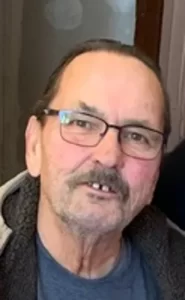 Richard Patrick Anthony Pemberton, age 70, of Colon, passed away Sunday morning, April 3, 2022 at his home.
He was born January 1, 1952 in Joliet, Illinois son of the late Alvin and Marsha (Rhynes) Pemberton.
Richard resided in Colon for over 30 years coming from Sherwood and his early life was lived in the Joliet area. He was a graduate of Plainfield High School in Plainfield, Illinois with the class of 1970.
He was first married to Lynn Vogel on July 5, 1985. This marriage ended in divorce. On October 20, 1999 he married Sharon Stroup in Centreville.
Richard retired from Frito-Lay following many years of dedicated service as a delivery driver. He had also delivered for Aunt Millie's Bakery and following his retirement he worked a number of years at the Village Market in Colon where he held the position of produce manager.
Richard had a love for the outdoors especially when he was camping or fishing with his best friend "Rat". Richard was an avid loyal fan of the Chicago Bears and the Chicago Cubs.
He is survived by his wife: Sharon; son: Jesse (Carrie) Pemberton of Union City; daughter: Tracie Coleman of Texas; step-daughters: Tonya Gardner and Fawnda Gardner both of Colon and Rhonda (David) Meyer of St. Charles, Illinois; six grandchildren including Amanda Hunnaman; one great grandson: Colson Lynd; sisters: Linda Janes of Joliet, Illinois and Shari Mathias of Streeter, Illinois; brother: Duane Hall and several nieces and nephews.
He was preceded in death by his parents and step-father: Calvin Hall and three brothers: Michael Pemberton, Gerald Pemberton and Timothy Pemberton.
In accordance with his wishes cremation has taken place and his ashes will be scattered in Torch Lake in Northern Michigan at the 45th Parallel.
The Hackman Family Funeral Homes of Sturgis is entrusted with the arrangements.
Memorial donations would be appreciated to Promedica Hospice, 8075 Creekside Dr., Portage, MI 49024.
We encourage relatives and friends to share memories and condolences at www.hackmanfamilyfuneralhomes.com.