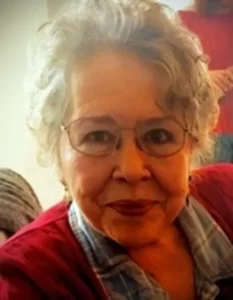 Rita Elaine Ultz, age 77, of Burr Oak, passed away Sunday, April 10, 2022 at Rose Arbor Hospice in Kalamazoo.
A funeral service will take place at 2:00 pm on Tuesday, April 19, 2022 at Dutcher Funeral Home in Bronson with Pastor Rod Detweiler of Firm Foundation Ministries in Centerville officiating. Interment will follow at South Colon Cemetery in Burr Oak. Visitation will be Monday, April 18, 2022 at Dutcher Funeral Home in Bronson from 4:00 to 8:00 pm.
Rita was born December 20, 1944 to Kennard and Electa Irene (Baker) Cuyler in Coldwater. On January 1, 1964 she married Kenneth Parshall and started her family. They later divorced. Rita later met and then married Gary Ultz on July 14, 1990 in Burr Oak.
Rita took one of those Dick Blick art courses back in the 60's and earned high praise for her sketches. She also took an oil painting class in the 70's. Rita used her artistic talent in many ways, mostly to share with others or fulfill a need. There were countless backdrops for plays and musicals. She painted signs to earn money for the family. Rita's signs in the community were a source of pride for her children. There was the beautiful Village Inn sign with the lazy raccoon laying in the tree, Granny's Ice Cream Parlor, and Woody's Western Wear. Rita lived life with the motto if you set your mind to it, you can do anything. She passed this attitude along to her family. Her true joy in life was spending time with her family, especially her grandchildren. She will be dearly missed by those who knew and loved her.
Rita is survived by her husband of 31 years, Gary Ultz of Burr Oak; her children Annita (Phillip) Johnson of Castle Rock, CO, Julie (Joseph) Burger of Bronson, and David Parshall of Burr Oak; her bonus son Dave Jordan of Bronson; her sister Ruth (Roger) Enyart of Pine, AZ; her grandchildren Ragen (Jeff) Houtz, Levi (Charlean) Johnson, Aaron Jordan, Austin Parshall, Oliva (Abigail) Parshall, Morgan Burger, Emily (Kaden Smith) Burger; her great grandchildren Elijah Johnson, Nolan Houtz, Odin Jordan, Mason Houtz, Benjamin Parshall, Zane Jordan, and Josie Houtz; and many nieces & nephews. She was preceded in death by her parents.
Memorials may be directed to the Burr Oak Fire Department.