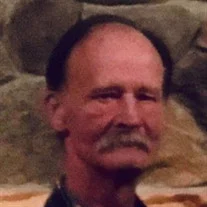 Robert D Klein, lifelong resident of Volinia Township, passed away peacefully at his home on Sunday, April 24, 2022 at the age of 67. Robert was born on August 4, 1954 to Lawrence Joseph and Nancy (Cox) Klein.
Having been born into a farming family, Robert learned the value of a long day's work at a young age. As a young boy he was often found helping with the family operation by driving tractors, tending animals and even helping milk cows before school. Robert loved the farming community and keeping up with today's ever changing farming technologies. He had a fondness for collecting all things antique including farm implements, farm tools and signage, household tools, glass jars and kitchen wares. Many of these special belongings adorn his house from wall to wall.
Robert was an avid Rolling Stones fan all his life. He collected Stones memorabilia and enjoyed listening to his collection of albums. He was even blessed to see them in concert, most recently with his two sons in Indianapolis on July 4, 2015. Robert knew the value of great music, a friendly smile and a good pair of cowboy boots.
Robert worked hard all his life. After downsizing his own farm he went to work for Special Lite Inc. in Decatur, making many friends in those years. After retirement, Robert enjoyed his time at his homestead on Wickett Road cutting firewood, tinkering in the shop and everything that life entailed on the Back 40.
Being outdoors and surrounded by nature created many happy memories for Robert, his kids, and his grandkids. Deer camp, 4-wheeler rides, shuckin corn and burning weenies over a bonfire are some of the core memories he created with his loved ones.
Robert is survived by his children; Justin (Lindsay) Klein, Tiffany (Arlo) Horvath, Jennifer Klein, Cade (Eva) Klein. His grandchildren; Trenton, Heidi, Preston, Payton, Evan, Piper and Mabel. His siblings; Suzanne (Mike) Markus, Peter (Nadia) Klein, Sally Klein, Margaret Klein, Gail Klein, Laura (Tim) Schug.
He also leaves behind his K-9 friend, Tucker, who will forever miss their rides to town together.
Robert was preceded in death by his parents and grandson Spencer Horvath.
Cremation has taken place. A memorial visitation will be held on Sunday May 8, 2022 from 4 to 7pm at Mater-Ralston Funeral Home in Marcellus. Memorial donations may be directed to the American Cancer Society. Online condolences may be left at www.materralstonfuneralhome.com.