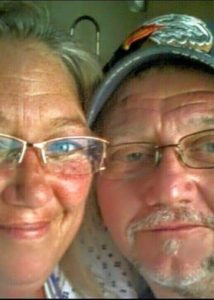 Ronda Kay Flowers, age 53, Kalamazoo, was surrounded by family when she passed away peacefully on Monday, April 25, 2022 at Bronson Methodist Hospital in Kalamazoo.
She was born September 29, 1968 in Sturgis to Betty Ann Pranga and the late Rex William Flowers, Jr.
Ronda graduated from Sturgis High School with the class of 1987. She had worked at Precision Speed, Jackson Hewitt and Cade Lake.  Her true calling was to help others and spent over 10 years working at Hope House as a Recovery Coach and House Mother.  Ronda was pivotal in helping others with their personal journeys and sponsored many in their recovery process.  The courage, bravery and commitment Ronda demonstrated in her own journey is something her family is extremely proud of.
Ronda enjoyed her grandchildren tremendously and even though they lived a distance away she FaceTimed daily to get that dose of sweetness the grandkids provided.  Ronda was extremely close with her mother; she spoke with her daily and was in the process of returning to Sturgis to be near her.
Ronda had been an active member of the Sturgis Toy Run as well as many other volunteer events.  She had a passion for nature and was a member of the Audubon Society that protects birds and the places they need, today and tomorrow.
Ronda exceeded many doctors' expectations with health issues she faced for many years.  The family wants to thank Bronson Hospital doctors and staff for the wonderful care they provided her for so long.
She is survived by her loving life partner Ron Harkness, Kalamazoo; her mother Betty Pranga and step-father, Robert (Whitey) Pranga, Sturgis; son: Brantly (Edith) Patterson, Sturgis; daughter: Ashley (Jacob) Schlotter, South Dakota; a sister:  Roxanne Persing, Sturgis; a brother:  Chad Flowers, Tampa FL; step-mother:  Susan Flowers, Colon; step-brothers:  Robert Pranga, West Hollywood, California, Tom Noirot, Colon,  Mike Harkness, Zack Harkness; step-sisters:  Nancy Flowers, La Quinta, California, Cinda Noirot, Colon,  Cheryl Harkness, Heather Harkness, Michelle Nowakowski.  Grandchildren: Anistasia, Bryson, Bently, Kylee, Hazel, Conner, Ainsley, Aubrie, Rylan and Zack Jr.; Niece:  Brittany Jansen, Lawrence, MI; Nephew: Cody (Elizabeth) Jansen, Sturgis; and life-long best friend Kim (Beach) Goodman.
Ronda was preceded in death by a daughter: Chantel Gibson; and her father Rex W Flowers, Jr.; grandparents:  Claude and Ruth West and Ava and Rex W. Flowers, Sr.
According to her wishes cremation has taken place.  Graveside services will be held at Colon Lakeside Cemetery on Friday, May 6, 2022, at 11 AM.  A gathering of family and friends to celebrate and honor the life of Ronda Kay Flowers and Rex Flowers Jr will be held on Sunday, July 17, 2022, from 12-noon to 5pm at the Colon Community Park, 200 W. State Street, Colon, MI.  Please bring a dish to pass.  Memorial donations in her memory may be directed to Ron Harkness. Envelopes will be available at Schipper Funeral Home. Memories and condolences may be left for the family at Schipperfuneralhome.com.