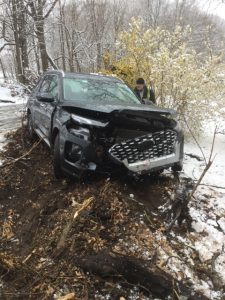 A Jones woman was injured in a single-vehicle crash this week in Cass County's Newberg Township.
Sheriff Richard Behnke said deputies were notified at 9:30 a.m. Monday regarding the incident on Bair Lake Street, east of Cory Lake Road.
Lindsey Whitaker, 41, was driving east on Bair Lake Street when she lost control of her vehicle. It ran off the roadway and struck a tree, investigators said.
Whitaker was transported to Bronson Lakeview Hospital.