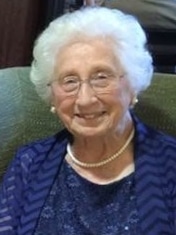 Bernice Mary Dobrowolski, age 93, of Three Rivers, passed away Thursday, January 6, 2022 with her family at her side.
She was born August 21, 1928 in Vicksburg, the daughter of Vence and Anna (Turek) Penar. Bernice graduated from Vicksburg High School with the Class of 1946. She then attended Parsons' Business School, working at the Kalamazoo County Alimony and Probation Department as a clerk.
On September 1, 1951, she was united in marriage to Chester (Chet) Dobrowolski at St. Edward Catholic Church in Vicksburg. Shortly after Bernice and Chet moved to the Dobrowolski family farm in Park Township where they resided for 70 years, raising their children and hosting many family celebrations and legendary polka parties in their barn.
Bernice was the ultimate homemaker. Family was everything to her. Bernice and Chet were best friends. And how she loved the farm. She supported Chet in his many community service roles and in his work both on and off the farm. They helped others when and however they could. Her Catholic faith was an integral part of who she was and how she lived her life.
In addition to raising her children and being a wonderful grandmother, Bernice worked as Park Township Deputy Treasurer for many years, for several years as receptionist for Griffith Chiropractics, and always as a working farm wife.
Bernice loved cooking for her family and friends. With Bernice, of course you could have another helping when food was still on the table, whether you were hungry or not. Her specialties were Polish dishes and she made certain her daughters and several of her grandsons could carry on the tradition of making holiday pierogis.
She and Chet enjoyed traveling on road trips with family cross country and in later years, traveled to Poland and France visiting extended family. Bernice especially loved Siesta Key, FL and trips with friends to Las Vegas and Lake Tahoe. Her favorite place was always at home on the farm.
Bernice loved polka music and dancing the polka. She was an avid card player and enjoyed doing crossword puzzles. She was a very proud wife, mother, grandmother, and great-grandmother.
Remaining to cherish her memory is her husband of 70 years, Chet; two daughters, Sally (Jeffrey) Middleton of Three Rivers and Joanne (Keith) Dalgleish of Bloomfield Hills; a son, John (Gwen) Dobrowolski of East Lansing; seven grandchildren, Alex (Kerry), Collin, and Lucas (Erin) Middleton; Michael (Catherine) and Jack (Joan) Dalgleish; Stephanie (Nathan) Overholser and John (Fernanda) Dobrowolski Jr.; two step-grandchildren, Amanda Geml and Alex (Anna) Geml; eight great-grandchildren and five step-great-grandchildren; one sister-in-law, Maxine Penar; and many nieces and nephews.
Bernice was preceded in death by her infant son Timothy Joseph; her parents; her brothers William, Stanley and Frank Penar; an infant sister, Josephine Penar.
Her memorial will be held Saturday, June 25, 2022 at Immaculate Conception Church in Three Rivers. Rosary will be at 10:30 a.m. followed by mass at 11:00 a.m. Interment will be at Parkville Cemetery.
Donations in Bernice's memory may be directed to the Immaculate Conception (IC) Parish Education Trust Fund or to the charity of one's choice.
Arrangements by Hohner Funeral Home.