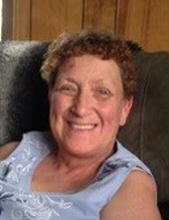 Constance M. Hill, age 69, of Sturgis, passed away Wednesday, May 11, 2022 at the Edgewood Nursing and Rehabilitation Home in Three Rivers.
She was born August 7, 1952 in Cherry Point, NC a daughter to the late Francis E. and Helen M. (Taylor) VanDeVoord.
Constance grew up in Illinois and graduated from Atkinson, IL High School. After graduation, she joined the U.S. Marine Corp. and received the National Defense Service Medal, the Good Conduct Medal, and earned the rank of Sgt.
On July 15, 1980 she married Scottie R. Hill at his childhood home in Fish Lake, IN. He preceded her in death April 18, 2022.
Constance had been employed at several area factories and she enjoyed garage sales, looking for deals at Goodwill, crafting, and spending time with her grandchildren.
Surviving are 3 Daughters: Steph (Dale) Schaeffer of Florida, Beatrice "Buffe" Hill, and Erin (Hill) Blair both of Sturgis; 6 grandchildren: Helena (Seth) Peachey, Caitlin Hill, Brenna Schaeffer, Mia Schaeffer, Evelyn Hill, and Micah Rugg; one great-grandchild: Tilly Peachey; two brothers: Ron and Jerry VanDeVoord; and several nieces, nephews, and great nieces and great nephews.
She was preceded in death by her parents, husband, 2 brothers: Dave and Steve VanDeVoord, and one sister: Chris Leuthold.
The family will receive friends and relatives for visitation from 6:00 – 8:00 P.M., Sunday, at the Rosenberg Chapel of Hackman Family Funeral Homes, 807 E. Chicago Rd., Sturgis, MI 49091.
A Memorial Service celebrating the lives of Constance M. Hill and Scottie R. Hill will be held at 10:30 A.M., on June 3, 2022 at Moorepark Community Church, 55701 Wilbur Rd., Three Rivers, MI 49093 with The Rev. Dale Schaeffer, Church of the Nazarene, officiating.
Military Honors will be conferred by the U.S. Marine Corp. Honor Guard and the Capt. John J. Kelley V.F.W. Post # 1355.
Memorial donations may be directed to the charity of one's choice and envelopes are available at the Hackman Family Funeral Homes of Sturgis who have been entrusted with the arrangements.