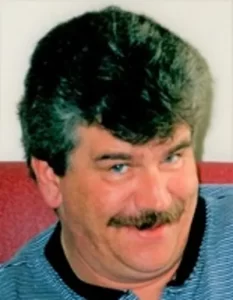 David Lee Myers, age 65, of Bronson, passed away Sunday, May 8, 2022 at Desert Springs Hospital in Las Vegas, NV. A funeral service for Dave will be held Friday, May 20, 2022 at 11:00 AM at Dutcher Funeral Home in Bronson with Pastor Terry Siler officiating. Interment will follow at Bronson Cemetery. Visitation will be held Thursday, May 19, 2022 from 4 to 7:00 PM at the funeral home. For those unable to attend, the service may be viewed on Dutcher Funeral Home website at 11:00 AM on Friday.
Dave was born September 21, 1956 to Donald and Letha (Bupp) Myers in Sturgis. Dave had worked at Midwest Foundry for 16 years until ultimately finishing out his career at White Star Auctions and transportation for local Amish families. He was a member of the Jonesville Eagles and enjoyed shooting pool and playing cards, hunting, and fishing. Dave was fun-loving and some would even say a bit of a jokester; but above all, he was a family man that surrounded himself with those he loved most. He will be dearly missed as a father, grandfather, brother, and friend to many.
Dave is survived by his children David (Stephanie) Myers of Quincy, Brian (Nicole) Myers of Sturgis, Melissa (Raul) Aguilar Jr. of Bronson; the mother of his children Karan Owens of Coldwater; his step-children Chris Hayes of Reading, Trista Goodson, Hope Goodson both of Elkhart, IN; his siblings Ruby Myers of Coldwater, Leota (Ed) Rumsey, Bill (Melanie) Myers both of Bronson; 9 grandchildren Makayla Aguilar, Kaitlyn Myers, Raul Aguilar, Alexis Myers, Aiden Aguilar, Mackenzie Myers, Stephen Avra, Sara Avra, Samantha Avra; 4 great grandchildren Clayton Avra, Aleaha Avra, Angelo Martinez, Violet Martinez; and his loving nieces and nephews. He was preceded in death by his parents.
Memorial donations are suggested to the St. Joseph County Sheriff's Department Reserves or to the family. www.dutcherfh.com