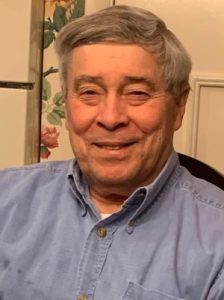 Don Joseph Caletri, age 86, of Three Rivers, passed away Sunday, November 21, 2021 at Bronson Methodist Hospital.
He was born June 14, 1935 in South Bend, the son of Ralph and Irene (Harringer) Caletri. He graduated from South Bend Central High School with the class of 1953. He was pursuing a Mechanical Engineering degree from the University of Cincinnati prior to enlisting in the Army in 1954. After his honorable discharge from the Army in 1956, he secured employment with Bendix Corporation and held numerous engineering positions prior to his retirement in 1995.
On July 14, 1956 he married the love of his life, Rebia (Sowder) who he was married to for 61 years before her passing on September 20, 2017. They enjoyed life together and with many friends and family. In 2003 they bought a second home in Lake Wales, Florida where they spent many winters.
Don had numerous hobbies that kept him very busy throughout his life. He enjoyed boating and had numerous sailboats that he sailed on Lake Michigan out of Holland and South Haven. He was also an avid gun, car, and airplane enthusiast. While a relatively quiet man, he could strike up a lengthy conversation with anyone willing to talk about these interests.
He is survived by his sister Carol (Don) King; his daughters, Jeanie (Denny) Dykstra, Teresa (Ed) Bunnell and Carol Caletri; grandchildren Jill (Kurtis) Hornick and Donny Dykstra and his great grandchildren, Jack and Lucy Hornick.
Visitation will be Tuesday, June 14, 2022 at 10:00 a.m. at Hohner Funeral Home, 1004 Arnold St., Three Rivers. A memorial service will follow at 11:00 a.m. at the funeral home with Pastor Steve Kaszar officiating.
Donations in Don's memory may be directed to St. Jude's Children's Research Hospital. Envelopes are available at the funeral home.