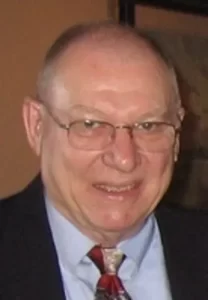 Don E. Hoffelder, age 79, of Burr Oak, passed away peacefully at his beloved home Saturday morning, May 21, 2022.
He was born June 11, 1942 in Sturgis, son of the late Eugene and Pauline (Hall) Hoffelder.
Don was a graduate of White Pigeon High School with the class of 1960. Following his graduation Don entered the U.S. Army and was stationed in Chalais, France, as a helicopter mechanic. He was honorably discharged December 3, 1964.
Don had been employed several years as IT Director and Plant Manager for the Harter Corporation in Sturgis until the closing of the business. Following that he did small business consulting for several businesses in Sturgis. Following his retirement he remodeled houses in the Sturgis community.
His professional career actually began at the First National Bank in Sturgis where met met his wife Nadine Sprang and they were married May 1, 1976 at Holy Angels Catholic Church in Sturgis.
Don had many accomplishments but what he took the most pride in was becoming a father to his three children. He always found time to be in attendance for their many activities including swimming, golf, little league, track, wrestling, crew, Scouting events and musical events. In his free time he enjoyed playing golf and was a longtime member of a weekly golf league at St. Joe Valley Golf Club. He also loved fishing on rural Michigan Lakes and he was an avid card player and belonged to a poker club and a local Euchre club for over 25 years. Don enjoyed tinkering with computers. He also loved dogs, particularly Airedale Terriers raising several throughout the years. The family will forever remember the annual family camping trips to Northern Michigan and the annual multi family camping trips to Camp Fort Hill. Don's positive outlook will be missed by all who knew him.
He is survived by his wife: Nadine; three children: Daniel Hoffelder via first marriage to Jean Engle, Bethany (Dave) Puetz and David (Caroline) Hoffelder; grandchildren: Brandon, Jesse, Vera, Wesley and Sydney; sister: Susan Hoffelder and many cousins, nieces and nephews.
He was preceded in death by his parents.
In accordance with his wishes and a continuation of his generosity Don gifted his body to the Willed Body Program at Michigan State University to be used for medical education. A memorial service celebrating and honoring the life of Don Hoffelder is being planned for mid-July. The times and dates of the service will be announced closer to July via social media.
The Hackman Family Funeral Homes of Sturgis is entrusted with the arrangements.
In lieu of flowers the family suggests those wishing to make a memorial donation in Mr. Hoffelder's memory consider Camp Fort Hill c/o: Sturgis Community Foundation, 310 N. Franks Ave. or the Sturgis Enrichment Center, 306 N. Franks Ave., Sturgis, MI 49091.
We encourage relatives and friends to share memories and condolences at www.hackmanfamilyfuneralhomes.com where a more detailed accounting of Don's life can be found.