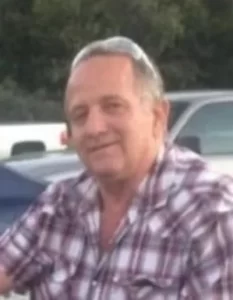 Donald William Myers Jr., aka – "Donnie Bill" or "Junior", age 63, of LaGrange, passed away on Wednesday, May 18, 2022 at his residence at the age of 63. Don was born on August 31, 1958 in Sturgis to Donald William Myers Sr. and JoAnne (Rawles) Myers. He attended Sturgis High School and later obtained his General Education Diploma (GED). He graduated from autobody tech school in 1999 and later attended Ball State University, where he graduated with his associate degree, all while incarcerated in the Indiana Department of Corrections. After obtaining his associate degree, Don worked on a bachelor's degree from Tri-State University. He was formerly employed as a brick mason, assisting his father with his contracting business. Don was especially proud of the mason job he completed during the addition and reconstruction of the Lima-Brighton Elementary School in Howe, Indiana. He had also worked as a truck driver until an automobile accident in the mid 1990's. Don was also a veteran of the United States Marine Corp.
Don loved riding his motorcycle, collecting coins and antiques, playing cards, and enjoyed visiting family and friends. Don was quick to crack a joke that you couldn't help but either laugh or reciprocate with one of the biggest eye rolls of your life. One of these jokes occurred during the funeral pre-planning a few weeks ago when he was asked about his hobbies! His response was "blondes, brunettes, and red heads!" He was known for buying, selling, and swapping cars, as well as seeking opportunities to turn a quick buck. He rarely refused a cup of coffee and never turned down the opportunity to ride along wherever you were headed. Don loved his children, grandchildren, and knew no stranger. His family will never forget his lack of urgency, as his trip to the crematorium is likely the only appointment he ever made on time!
His family would like to honor the memory of the late Lester and Mary Miller. They were faithful in ministering to Don all of the years he was incarcerated from 1997-2002. Their faithful prison ministry had a huge impact on Don's life!
Survivors include:
Daughter, Misty (Rustad) Wilson and her husband, Don; Garrett, IN.
Grandchildren: Antonio Andrews, Halie Andrews, Cole Wilson, Calvin Wilson, Hannah Wilson.
Son, Donald William Myers III, Pendleton, IN.
Son, Derrick Myers, Sturgis.
Son, Benjamin R. Myers and his wife, Eberle; Sturgis.
Grandchildren: Addiston Myers, Penelope Myers, Adrionna Hahn.
Daughter, Lacy Myers, LaGrange.
Grandchildren: Jameson Hughes, Mason Hughes, Allison Hughes, Morgan Edwards.
Daughter, Calysta (Myers) Miller and her husband, Dustin; LaGrange.
Grandchildren: Harmony Gulley, Symphony Gulley, Harper Miller, Bentley Crowder, Alyvia Coney.
Sister, Sherri (Myers) Schreiber and her husband, Michael; Port Orchard, WA.
Sister, Lisa Holtz, Van Wert, OH.
Sister, Jennifer (Myers) Arnold and her husband, Chris; Lewisburg, PA.
Brother, James Medley Jr., retired Air Force Veteran, Government Contractor in Qatar (Middle East).
Don was happily divorced and leaves behind three ex-wives: Judi Wininger (Sexton) 1977-1987; Vicki (Albaugh) Houser 1988-1997; Julie Little-Joshi 2005-2005.
Don was preceded in death by his father, Donald W. Myers Sr. on October 23, 2002; his mother, JoAnne (Rawles) Medley on July 31, 2021; and granddaughter, Melody Marie Gangwer on October 26, 2019. He was also preceded in death by the mother of his eldest daughter, Mary (Rustad) Christner; his paternal grandparents, John and Stella (Lather) Myers; and his maternal grandparents, Clinton Rawles and Lena (Gable) Rawles-Gravit.
According to Don's wishes, cremation has taken place. A memorial celebration of life will take place at The First Baptist Church of Sturgis; 1050 E Fawn River Rd, Sturgis on Saturday, June 4, 2022 at 11am. Family will receive friends at 10am prior to the service. Don's son, Benjamin R Myers, faithful member of FBC-Sturgis, will officiate. Burial will take place at English Prairie Cemetery in Brighton, LaGrange County, Indiana immediately following the memorial service. Interment will be adjacent to his father, Don Sr. Hess Funeral Home and Cremation Services, 603 S Detroit St, LaGrange, IN have been entrusted with the arrangements.
In lieu of flowers, those wishing to make a memorial donation in memory of Don are encouraged to do so, payable to: Elijah Haven Crisis Intervention Center; 201 S Detroit St., LaGrange, IN, 46761 and or Melody's Memorial Fund, Horizon Bank, 114 South Detroit Street, LaGrange, IN 46761.