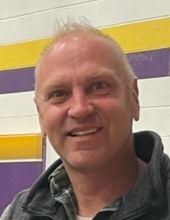 Gregory Lee "Grego" Schroeder, age 46, of Bethel Township, passed away unexpectedly on Tuesday, May 17, 2022 at ProMedica Coldwater Regional Hospital.
A memorial service celebrating Greg's life will be held on Monday, May 23, 2022 at 11:00 AM at Lighthouse Funeral & Cremation, 1276 Tate Trail in Union City, with Pastor Terry Siler of the First Congregational Church of Bronson officiating. A gathering of family and friends will be held the evening before, from 5:00 to 8:00 PM on Sunday, May 22, 2022, also at Lighthouse in Union City.
Greg was born February 14, 1976 in Flint, Michigan to Reed and Gina (Field) Schroeder and grew up in Genesee County. On April 5, 2005, he married the former Jennifer Fee in Nashville, TN. They resided in Bronson with their family. Greg was employed as a city mail carrier in Sturgis. He liked going to auctions, wheeling and dealing, selling things and especially flipping cars. He also enjoyed mushrooming, deer hunting and four-wheeling.
Greg is survived by his wife of 17 years, Jeni; his children, Alana Fauth of Owosso, Alyson (Brendan Post) Schroeder of Bronson, Alivia Schroeder of Bronson and Aliyah Schroeder of Bronson; his mother, Ginna Morris, of Avon Park, FL; his siblings, Ginger (Hugo) Marchand of Charleston, SC, Jeff (Sherry) Morris of Flushing, Jason (Fallon) Morris of Arvada, CO, Claudia (Chuck) Shelton of Avon Park, FL and Andrew (Amanda) Schroeder of Winter Haven, FL; several nieces, nephews and friends.
He was preceded in death by his father, Reed Schroeder; and his step-father, Teddy Morris.
Memorial donations are suggested to the Schroeder Family in support of his daughters.