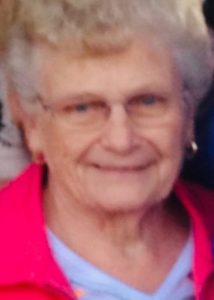 Ilene M. Ross, age 86, of Bronson, passed away Saturday, May 14, 2022 at her home.
Ilene was born on April 29, 1936 in Bronson, a daughter to the late Ivan J. and Ina Pearl (Stewart) Swift.
Ilene graduated from Colon High School with the class of 1954.
On August 25, 1956 Ilene married her husband of 65 years, Lynn A Ross in Colon.
Ilene was a home maker for 15 years. She then owned and operated a beauty salon for many years. She then worked for Kirsch Co. in Sturgis for 25 years and retired from service in 1998.
Ilene is survived by her Husband Lynn A. Ross of Bronson, 4 children: Kimberly Ross of Schoolcraft, Danny (Janice) Ross of Niles, Alan (Darla) Ross of Bronson, and Jeff (Jill) Ross of Burr Oak, 5 grandchildren: Justin (Rachel) Ross, Nicholas (Becca) Ross, Tyler Ross, Rachel (Brent) Marsh, and Mercedes (Chris) Huddleston, 7 great grandchildren, 1 brother Gero (Gayle) Swift of Bronson a sister-in-law Bonnie Swift of Lewiston, and several nieces and nephews.
Besides her parents Ivan and Ina Pearl Swift, Ilene was preceded in death by 5 brothers: Arnold Swift, Wayne Swift, Irvin Swift, Galen Swift, and Stanley Swift, and a sister Elen Jackson.
The Ross family will receive friends and relatives on Thursday, May 19, 2022 from 2 to 4 and 6 to 8 at the Schipper Funeral Home LTD in Colon. A funeral service will be held on Friday, May 20, 2022 at 11:00 AM also at the funeral home. Interment will follow in Matteson Township Cemetery. The family asks in lieu of flowers memorial donations be directed to the Alzheimer's Association. Envelopes will be available at the funeral home.
Memories and condolences can be left for the family at Schipperfuneralhome.com.