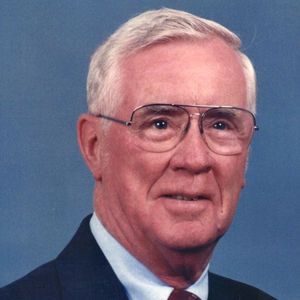 Jack S. Palmer, age 97, passed away on Friday, May 13, 2022 at StoryPoint Senior Living in Portage with his family by his side. Jack was born June 1, 1924 in Holland, MI to Merle and Jeanette (Scheerhorn) Palmer. He graduated high school and served his country honorably in the U.S Army Air Corps during WWII. While deployed, he was a B-17 Engineer/Gunner in England. Jack was also a P5 Mechanic at the Air National Guard Base in Battle Creek.
Jack worked as a supervisor for many years at Post Cereals. Jack spent most of his life in Battle Creek before moving to Fisher Lake near Three Rivers. Jack loved spending time out on Fisher Lake. He enjoyed fishing, hunting, bowling, traveling and playing softball. A true "people person," Jack could talk and make friends with anyone. He was a member of the Post Cereals 25 Year Club and a past member of the Lions Club. Jack often volunteered his time at the Emergency Food Program.
Jack is survived by his four children, Elizabeth "Betsy" (James) Whalen, Juliann Balcom, Charles (Catherine) Palmer and Douglas Palmer; a step-son, Gary (Karen) Quinn; 10 grandchildren; 15 great-grandchildren and a brother, Alvin (Barbara) Palmer.
Jack was preceded in death by his first wife, Louanne Palmer; his second wife, Elva Palmer and two sisters, Maxine and Joyce.
A service to celebrate Jack's life will be held at 12:00 p.m. on Saturday, May 21, 2022 at Floral Lawn Memorial Gardens. In lieu of flowers, memorial donations may be made to ProMedica Hospice. Arrangements by the Farley Estes Dowdle Funeral Home & Cremation Care.