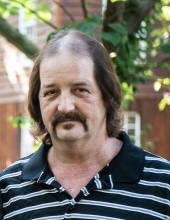 James "Jim" Michael Brown, age 56, of LaGrange, passed away unexpectedly in his home on Friday morning, May 6, 2022.
He was born on August 10, 1965 in Sturgis to Mike Brown (Linda) and Betty Foley (Gene).
Jim married Sally (Ringler) Brown on May 5, 1991, in Sanford, Florida; she survives.
Jim is also survived by his step-mother Linda, son Devan Good (Angela) of Sturgis, daughter Tanika Shaw of Angola, son Travis Brown (Erica) of East Leroy MI, and son Aron Brown of LaGrange; nine grandchildren; his brothers Bob Brown, Jay Foley (DeeDee), George Foley (Heidi), Richard Foley, Vernon Foley (Tammy), Lee Foley; his sisters Kelley Hakeos, Lori Lehman, Merlan "Frog" Lehman, Pat Peters, Ines Ramey; several nieces and nephews.
Jim was preceded in death by his father, mother and step-father.
Jim was a dedicated husband and father, and would give anything to help those in need. Jim's love for his family was evident in the way he cared for his wife, children and grandchildren. Jim will be remembered as a hard working, family man by those closest to him.
A memorial service and visitation will be held on Saturday, May 14, 2022, at the Mongo Fire Station, 3155 N SR 3, Howe. An open house visitation will begin at 2:00 P.M. with a service to follow at 4:00 P.M. A dinner will be provided for those who wish to stay after the service.
Memorials may be made to the American Diabetes Association in Jim's honor.