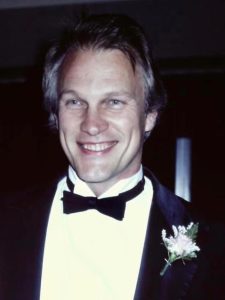 James Leonard Gillard III ("Jim") died peacefully at his home surrounded by his loving family on Monday, February 21, 2022 at the age of 82. Jim was born November 28, 1939 in Muskegon, the Son of Dr. James L Gillard Jr. and Margaret "Peg" (Moore) Gillard. Jim was delivered into this world by his father, "Doc Gillard", an OB-GYN practicing in the Muskegon area.
Jim was a 1957 Graduate of Muskegon High School and a 1968 graduate of Western Michigan University College of Business. He loved hunting, fishing, and the outdoors and made his career as a District Business Manager with the State of Michigan Department of Natural Resources in Grand Rapids and Plainwell. He began his career with the DNR working in the fire tower during college. In 1989, Jim received the Michigan Natural Resources Commission Commendation for Outstanding Employee for his work with DNR hunting and fishing licensing training.
Jim married Cynthia Schaefer in 1981 during her third year of law school at Notre Dame. They chose Three Rivers as their home to split the commute between Notre Dame and Jim's DNR office in Plainwell. Later, Jim and family moved to Corey Lake in 1992 and Jim retired from the DNR in December, 1994 after 30 plus years on the job. In addition to supporting his children's scholastic and sporting aspirations, he took up sports and wildlife photography over the course of his retirement. He eventually published two books of his photography, which included a book of area sports photos and a book of area wildlife. Jim became locally known for his photography of Three Rivers sporting events and, for years, would always make sure that each Three Rivers High School athlete received a complimentary photograph of them participating in their sport. He won several photo awards from his Kalamazoo Institute of the Arts photography class submissions and never turned down a chance to shoot a sporting event with his friend and mentor, Chuck Comer.
Jim's greatest love was the outdoors. Jim and Cindy took several fishing trips north to Grand Marais and to the Rocky Mountains. He taught Cindy how to snow ski and they spent many days with their children and friends up north at the family cabin skiing and snowmobiling. Jim and his son took back-to-back P.A.L.M. bicycle trips together across Michigan. He was an active member of the Audubon Club in St. Joseph County and a life-long member of the Elks. He served as member and president of the board of directors for Camp Wakeshma at Corey Lake and he was also active for many years in the local chapter of Ducks Unlimited.
Jim is survived by his wife of 40 years, Cynthia (Schaefer) Gillard, his son James L (Lyca) Gillard IV, his daughter, Chelsi (Kenton) Bowers, and his 3 wonderful granddaughters, Adella Isabel Gillard, Sylvia Bowers and Savine Bowers, his sister Margaret Ann (Marv) Howard, his brother Tom (Valerie) Gillard, and his brothers, Doug Gillard and Paul Gillard, his sister-in-law, Marcia Gillard, his brothers-in-law, James (Nancy) Williamson and Nicholas P. Schaefer as well as many beloved nieces and nephews, Mike (Shana) Wasilewski, Tom (Brenda) Wasilewski, Kirk and Kate Gillard, Shaunte Staley, Marla, Rick and Laura Gillard and their families, Autumn and Grant Gillard, Dr. Paul Gillard, Kailye Gillard, Danae Gillard Pulaski, Olivia Schaefer, Nicholas Scott Schaefer, and Wendy, Jeremy, Jake, Sam and Hannah Williamson. He was preceded in death by his parents, Dr. James Gillard and Peg Gillard and his brother, Dr. Robert "Bob" Gillard, his in-laws, George Schaefer, Barbara Jean Schaefer and brother-in-law George "Scott" Schaefer.
A celebration of his life will be held Saturday, May 21, 2022 at 2:00 p.m. at Camp Eberhart Chapel on Corey Lake.
Donations in his name can be given to the Kalamazoo Institute of the Arts, the Parkinson's Foundation or Promedica Hospice. Envelopes are available at and may be sent to Hohner Funeral Home in care of his arrangements.